Location, location, location. While a major factor when it comes to real estate, especially in relation to a home's value, location is a critical factor in so much more than where we live. Whether it be work, home, shopping, or investing, the location in which we do these things has an incredible impact on how we live our lives and the output of our efforts. As a result, it's essential to understand the details of a location before deciding to "settle down" or open up shop in a particular location. This process of finding a place is what is often referred to as "Site Selection."
What is site selection and what does it involve?
While site selection may seem as simple as finding the most notable or trafficked location and hoping that the associated traffic increases overall foot traffic to your business, that's hardly ever the case. In short, site selection can make or break the success of your business. Although it's typically associated with real estate and retail, many other verticals benefit from greater location insights. Site selection isn't limited to an existing building, as a plot of land could be worth development if the surrounding area's data and insights indicate the location warrants it. Gathering location data before selecting a site will significantly improve the ability to make informed decisions and typically increase ROI; this data is referred to as trade area analysis.
How are site selection and trade area analysis related?
Trade area analysis is the core of site selection and is the study of the area surrounding your point of interest (POI). This study almost always takes the surrounding businesses, accessibility, demographic data, and other points of interest into account to give you a clear picture of what that market looks like and can support. In doing so, you'll learn about competitive opportunities, people trends such as how many potential customers live in the defined area, and what these people look like from a demographic standpoint. Trade area analysis ensures that you make the most informed data-driven decision for your business.
By running trade area analysis, you guarantee you are provided all the details and insights from a prospective business area while also gaining location intelligence to act on emerging opportunities and market trends which would serve as a competitive differentiation to any organization.
Here are some of the critical insights you can gain:
Competition: For retail, you'll need to understand which competitors are in the area. Having the spatial awareness of which competitors are in the area will ensure you're not doubling up on each other's sphere of influence when it comes to targeting and losing sales as a result. Additionally, it will enable you to ensure you're not placing your own locations too close to each other and cannibalizing your sales. Ultimately, the goal is to empower you to make the best decision by ensuring the area can support your business and there aren't any other unforeseen competitors or roadblocks. Conversely, there are times when you may want to be in close proximity to your competitors, as we often see in the fast food industry, where it is not unheard of for competitors to cluster around each other.
Accessibility: Ease of access often entails more customers. Excellent public transportation, parking, or walking/biking paths eliminate the inconvenience of getting to a point of interest, or POI. By removing the hassle of getting to a POI, you've also eliminated a roadblock that may have kept a person from coming in. Whether it be an office, retail location, or even a restaurant, accessibility plays a huge factor in people's willingness to commute. This is evident in larger cities, where you'll typically have a symbiotic relationship between transit hubs, offices, shops, and dining. This ease of access allows for people to be brought in at high volumes and ultimately supports the POI in the surrounding area.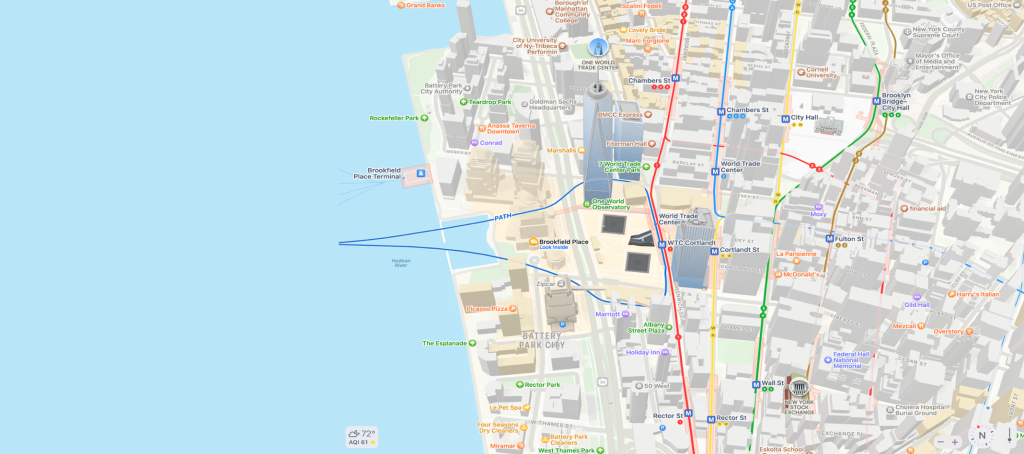 Examples of this can be seen in any major city across the globe, such as London's Waterloo Station or New York's World Trade Center Station (WTC). We'll use the map of New York's WTC above as an example of major transit hubs supporting retail and commercial real estate. As seen above, there are no less than seven rail lines and one ferry terminal within close walking distance. Each of these brings countless individuals to New York's Financial District and lower Manhattan daily, leading to increased foot traffic at the surrounding POI. In each case, there is an abundance of office space, retail, dining, and other POI, such as parks or memorials, making that area more attractive. While we used public transit as an example, this is also seen in a few other cases, such as shopping malls which are typically located immediately near freeways or major highways.
Demographics: The surrounding area's demographics are a great insight into the viability of a location during the site selection process. Demographic insights are a powerful tool in understanding if the area has targeted potential customer. A proper use of demographics would be to build an ideal customer profile and use that persona to find a suitable location that meets a similar demographic profile concerning what your typical customer looks like. This analysis is a powerful marketing tool that increases the likelihood that a company will find high-converting users. For example, the use and implementation of demographic insights could dictate a maternity store's decision to open up shop in a college town or a suburban location with high levels of education, a large percentage of single-family homes, and residents in their late 20s to early 30s. Learn more about demographic insights and how Foursquare implements those into our data here.
Understanding Trends
While the insights listed above are essential in finding a viable location, it is important to factor in trend analysis and external factors into your search. In doing so, you'll consider the trends of changing geographic and demographic conditions around a location. As conditions change, the site you may have had in mind may no longer be attractive in the future, or you may be better suited to investing in an area that is up and coming. Gentrification often has a substantial impact on the value of a property as well as the demographics of the surrounding area. Using Los Angeles's Highland Park as an example of gentrification's effects on property value and POI, we see that the median home value has increased from roughly $800,000 in 2017 to just north of 1.2 million today. Additionally, there has been a transformation of the POI within the community. As demographics have changed, there has been what is referred to as a retail renaissance within the neighborhood.
"The amount of restaurants that are there and wine bars that are opening up is kind of shocking," said Judah Dorn, CBRE Group, in an interview with the Los Angeles Business Journal.
Typically, these trends are easy to analyze using both historical, current POI, and demographic data in unison. As the demographics of an area change, so will the POI located within it.
Therefore, it's paramount to be aware of these trends as the ideal clients of today may not be suitable in the future or vice versa.
External Factors
Often, external factors have a heavy impact on the viability of a location. Examples of this include a developer taking on a new large project or closing a rail line. These could negatively or positively affect essential things such as property value, accessibility, and foot traffic.
One example is New York's MTA 2016 proposal to shut down the L train for a year and a half due to the damage caused by Hurricane Sandy. The train, which connects parts of Brooklyn to Manhattan, would have upended the commutes of hundreds of thousands of daily riders, causing them to take multiple transfers or use the slower bus route. As a result of the proposal, leasing began to drop, vacancy rose, and landlords were forced to offer concessions or lower rents. Fortunately, the temporary shutdown never occurred, which was a great relief to the business and investors in the area who are heavily dependent on transit in New York City's public transit-oriented society for traffic.
External factors such as future development can also have positive effects and be a great indicator to invest in an area or open shop while costs are lower. Newer development projects like Los Angeles's SoFi Stadium often present great opportunities if one can get in at the correct time and take advantage of increased property values and retail opportunities. This was the case in the surrounding Inglewood neighborhood, which saw an average property value increase of around 84%.
The success and ROI of investments are heavily tied to the location where one decides to spend their resources or settle down. Because of this, it's necessary to take in as many insights into an area's landscape, historical, and future trends as possible. Site selection is one of the most influential "make or breaks" when deciding where to invest. By utilizing all the above data, you are ensuring you have the most precise picture of how things look and where they are heading. The impact and importance of site selection and up-to-date, accurate data are why companies like Redfin have invested heavily in their data with Foursquare. Their goal is to give their users a better idea of what it's like to live in a neighborhood and narrow their search to homes that are most relevant to each individual homebuyer's needs. Discover how Foursquare Places can improve your business strategy, and contact us to request a demo today.