A little over a year ago, Fellows from Pursuit – a social impact organization that trains adults with the most need and potential to get their first tech jobs, advance in their careers and become the next generation of leaders in tech – had little to no coding experience. But on the evenings of October 11 and 12, Fellows of Pursuit's 9.3 and 9.4 cohorts presented their very own self-built apps to a panel of industry leaders and an audience of supporters during Pursuit Demo Days. This event, hosted by Foursquare at our NYC office, marked the culmination of a transformative year of learning and the Fellows' first professional step into the tech industry.
The two-night event was a milestone moment for Pursuit's Fellows, who've gone through an intense year of training – learning the fundamentals of software development, industry fluency, and the leadership and professional development skills they need to become professional software developers. In the final phase of their 'Core' training, they spend ten weeks working on capstone projects, which provided Fellows the opportunity to stretch their technical and creative boundaries as they created the most intricate and engaging projects of their tech journeys so far.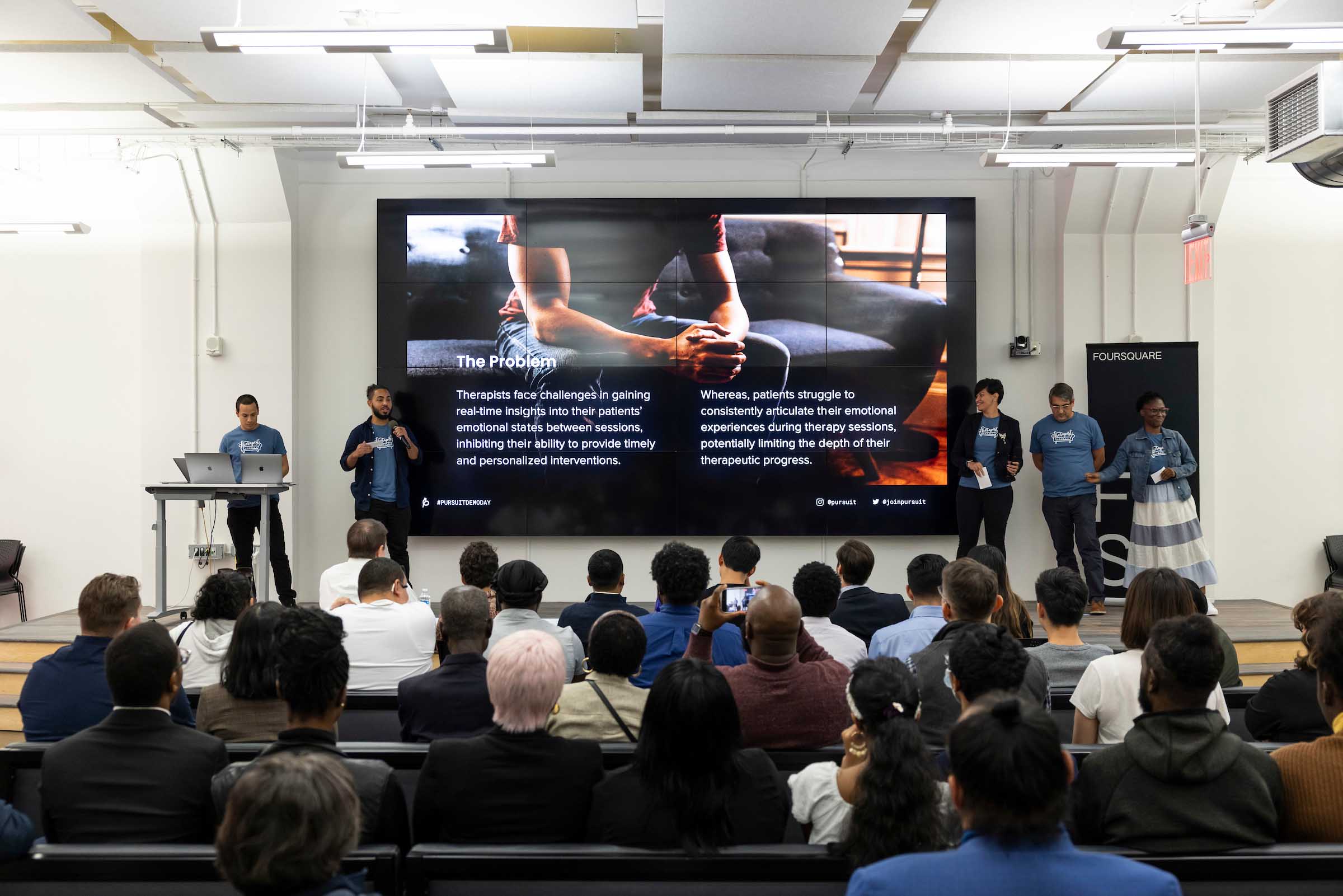 Demo Days proved to be an impressive and inspiring time for all in attendance. Projects ranged from using advanced AI technology to generate personalized, virtual tours that enhance one's travel experience, to a gamifying app that educates and incentivizes people to have a positive impact on the planet's future. Panelists included Foursquare's own Head of Marketing & Comms, Michele Morelli, in addition to leaders at organizations including the New York Mets, Western Union, and the NYC Mayor's Office of Talent and Workforce Development. The nights also provided Fellows the chance to engage with panelists and meet other industry professionals, hiring partners, and tech entrepreneurs.

"Demo Days are more than just a display of tech skill; they showcase the talent, creativity and dedication of our Fellows," said Jukay Hsu, Pursuit Co-Founder and CEO. "With over a year of training and a challenging ten-week capstone, they've proven they're not just coders, but software engineers who are equipped to problem-solve and drive innovation. Their determination and hard work, seen in sleepless nights and busy weekends, assures me they will be valuable team members and further the business objectives of their future employers. I'm proud of their journey so far and their potential impact in tech."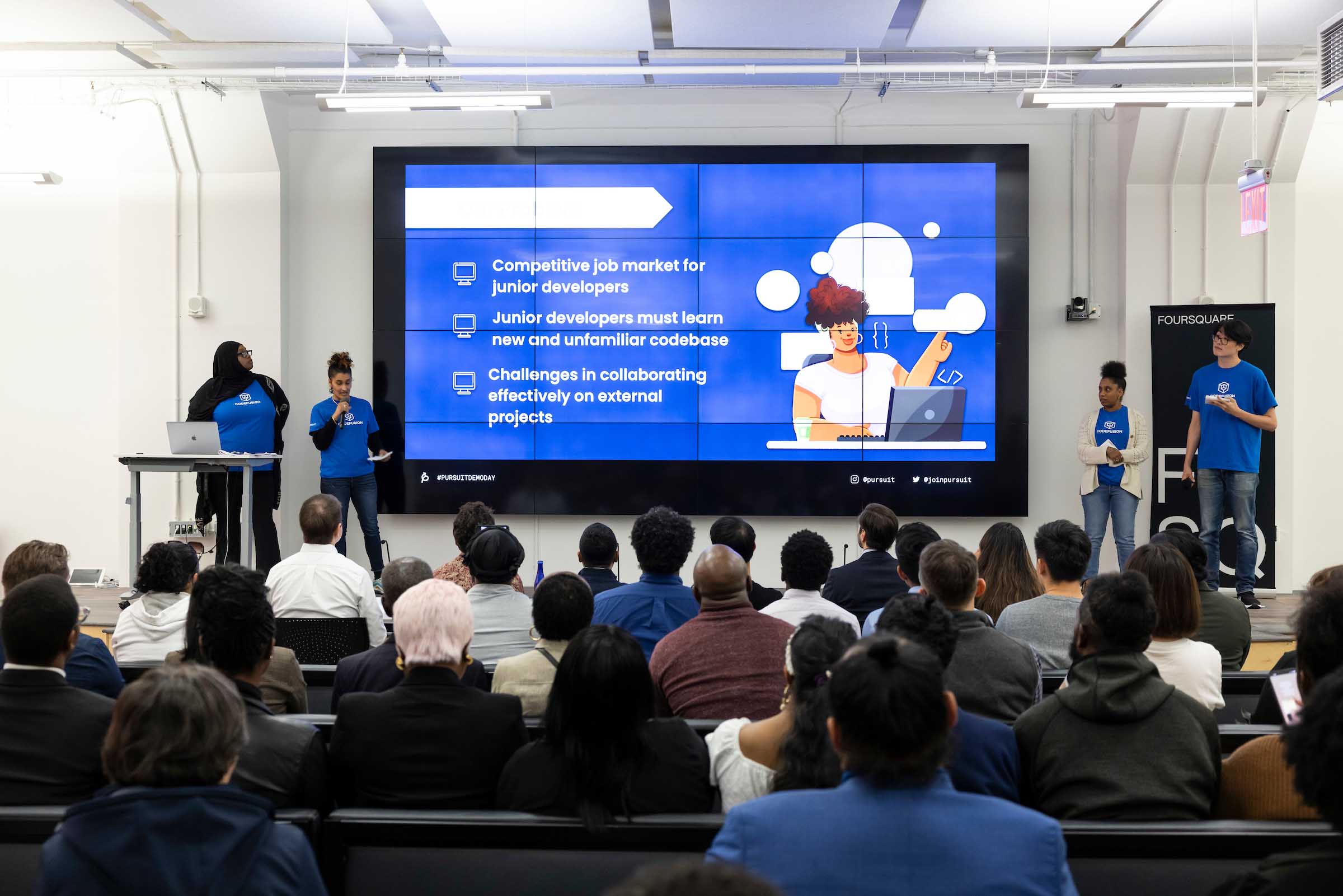 Unlike typical bootcamps or coding schools, the Pursuit Fellowship goes beyond just training, working directly with best-in-class companies to secure hiring commitments. Once Fellows launch their careers, Pursuit provides an additional three years of on-the-job support to ensure long-term success, which results in long-term growth and retention that benefits Fellows and employers alike.
"I'm extremely proud of every single Fellow and what we've accomplished so far," said Diego Carrero, a Pursuit Fellow. "We're all aware of the lengths we had to go through to get to this point, and I want to celebrate that win now – and when we land our first jobs in tech."

Foursquare has been a Pursuit Commit partner since 2021, having hired four Fellows who have continued to thrive on the job and positively impact the Foursquare community. Pursuit's fellowship program embodies many of the leadership principles that make up Foursquare's culture. Thinking bigger, driving growth through experimentation, hiring well and coaching hard – these shared values are what brought Foursquare and Pursuit together. Foursquare's Pursuit engineers were present at Demo Days, and they continue to mentor Fellows who are currently in training or just starting their careers.
"Each group brought thoroughly impressive demos to the panelists – from the apps they built, to the passion they presented their work with, it was clear that the Fellows were prepared not only to demonstrate all that they had learned through Pursuit, but also to enter the tech workforce as the next generation of leaders," said Michele Morelli, SVP of Marketing & Communications at Foursquare and Demo Day panelist.
The key to Fellows' success is the support system and access to industry networks and events that's built around them. Mentorship in particular is of critical importance, which is why Pursuit works directly with volunteers at partner companies like Foursquare to offer career guidance, interview prep, and technical and design expertise needed for aspiring software engineers. The support not only accelerates professional growth, but it instills a culture of continual learning and collaboration for Fellows.
"We're incredibly grateful to Foursquare for not only hosting Pursuit for Demo Days, but for consistently echoing our shared values," said Caroline Oh, Pursuit Chief Operating Officer. "Their ongoing commitment to nurture talent and innovation aligns with our collective vision, and it's through partnerships with companies like them that we are creating the future of tech."