It's six months until Foursquare celebrates its 10th anniversary. In the past decade, we've built a company that's now the gold-standard location partner for many of the world's leading tech giants and brands. We've grown from a consumer app into a leading location technology platform, with media, enterprise and SaaS solutions for thousands of retailers, restaurant groups, publishers, developers, ad-tech companies and more.
Today, we announce the first close of a new round of equity funding: $33M co-led by strategic investors Simon Ventures and Naver Corp. and by Union Square Ventures. (The first close of $25M occurred on Friday, we anticipate a secondary close of at least $8M by year's end.) Each investor chose to participate because they believe in our business and our future. Our Series F is more than fuel for our ambitious goals and roadmaps — it's backing by investors, including those with ties to notable companies, who canvassed the industry in search of a leader, and selected Foursquare. Our Series F is about the right investors, at the right time, who recognize our value and will work, deeply, to build Foursquare of the future.
We are proud of this round because we've welcomed in two investors with deep domain expertise who understand our tech and its potential to transform industries (particularly retail and tech), our revenue model, and believe — based on our team, our products and our track record of strong growth — that we are transforming the location technology space. They are excited for the opportunity to work hand-in-hand with us, and us with them.
Simon Ventures, Naver Corp., and Union Square Ventures all understand that a thriving, focused location player is critical for the health of the tech industry. We agree. That's why we're building a company that stands apart from Google and Facebook as the most trusted, independent platform for understanding location.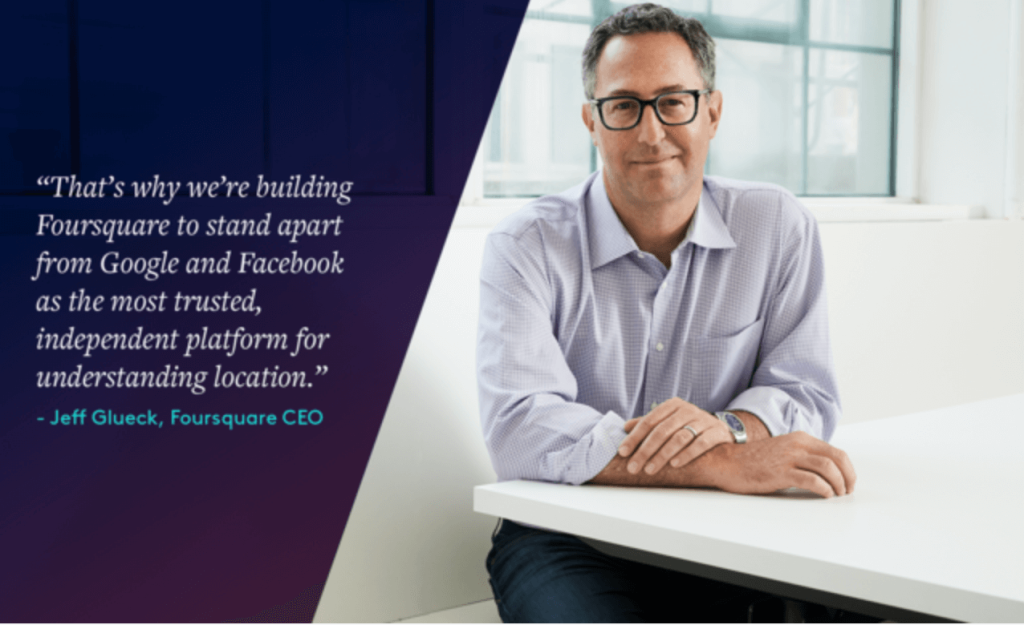 WHERE WE'RE GOING
Since our last raise in 2016, we introduced several complementary media, measurement and developer tools to the market, most notably Attribution and our Pilgrim SDK. We've recently announced AccuWeather, Tinder, Mapbox and Hilton as our newest enterprise customers, adding to the 150K registered developers on our platform including Apple, Grab, Microsoft, Samsung, Twitter, Uber and others, and growing our panel by more than 50% in the past quarter alone.
The funds from this round will help Foursquare realize the next step of our journey. In this next chapter, we will refine and deeply connect our products, allowing marketers and developers to build location functionality into apps, marketing campaigns and measurement and CRM platforms. We'll also be expanding our engineering team and doubling down on R&D, to showcase the breadth and possibilities of our location technology.
Location is not a solved problem, and we are constantly improving our understanding of how a phone sees the world. (We recently explained the upgrades we've made with machine learning techniques.) Though we pride ourselves on our nuanced understanding of malls, we'll continue to upgrade our coverage of densely populated places and improve our ability to detect extremely short consumer visits — such as at a drive through. Scale is another critical growth area: We've made tremendous strides in our addressable audiences through a steady drumbeat of new partners and data sources, using our first-party data as a differentiating truth set. We're going to double down on intelligent scale during Q4 and into 2019. We'll be investing in product and will introduce the best-of-breed, integrated family of tools that our clients need.
OUR TEAM
Series F welcomes incredible partners. Simon Ventures is a venture fund focused on investing in technology-enabled commerce and is sponsored by Simon Property Group, the world's largest retail property owner. They believe our tools and differentiated data will redefine retail analytics and elevate the quality of the offline shopping experience. Naver Corp., the largest search engine in South Korea, is already a massive customer of Foursquare and is driving towards search domination in Asia with Foursquare data layered in its tech stack. Union Square Ventures, our longtime champions, believe in our heritage and have seen first-hand how we've transformed the offline space.
This round also includes participation from investors in Series E including Morgan Stanley and Pitango Growth, and we expect will include others in the second close. We are thrilled to have their support as we innovate and grow.
The infusion comes at a crucial moment in Foursquare's history. I'm thrilled to highlight our amazing executive team including our new CRO, Liz Ritzcovan; a new SVP of Product, Josh Cohen, who recently joined from Google; and our SVP of Engineering, Matt Kamen who has been with Foursquare for seven years and is now part of our executive circle. The rest of the exec team is made up of a deep bench of Foursquare knowledge and industry expertise.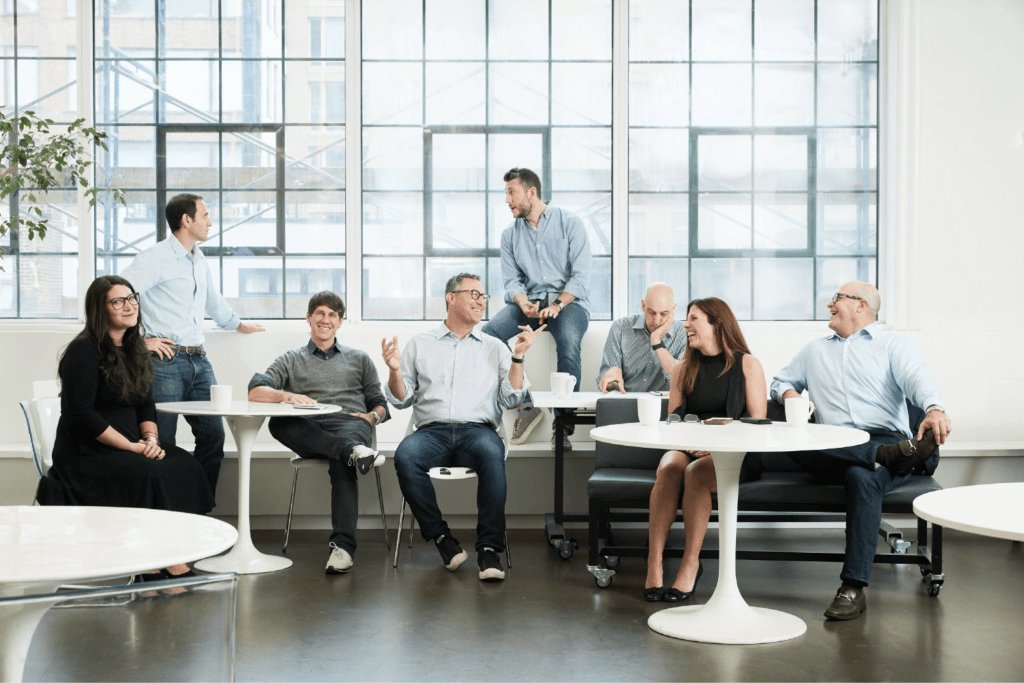 *The Foursquare executive team in the cafeteria of our new Foursquare HQ. From left: Meghan Lapides, SVP, Human Resources; Josh Cohen, SVP product; Dennis Crowley, co-founder and executive chairman; Jeff Glueck, CEO; Matt Kamen, SVP, engineering; Liz Ritzcovan, CRO; Rory Parness, CFO; Marc Ellenbogen, General Counsel and Chief Compliance Officer.
*
In addition to this leadership team, we count nearly 300 on staff, spread amongst our brand-new Flatiron HQ; in our growing sales and engineering offices in SF and Chicago; in our expanding LA outpost; and in Singapore, where we have a true sales presence and local-language technical teams.
I feel incredibly lucky to be a part of Foursquare. This round is a powerful vote of confidence from investors who sought out the leader in the location space and are signaling, with their investment, the bright future of our company as a truly transformative platform.
Join us! Be a part of our story as a partner or an employee.
Raine Group LLC advised Foursquare on the financing transaction.
Foursquare