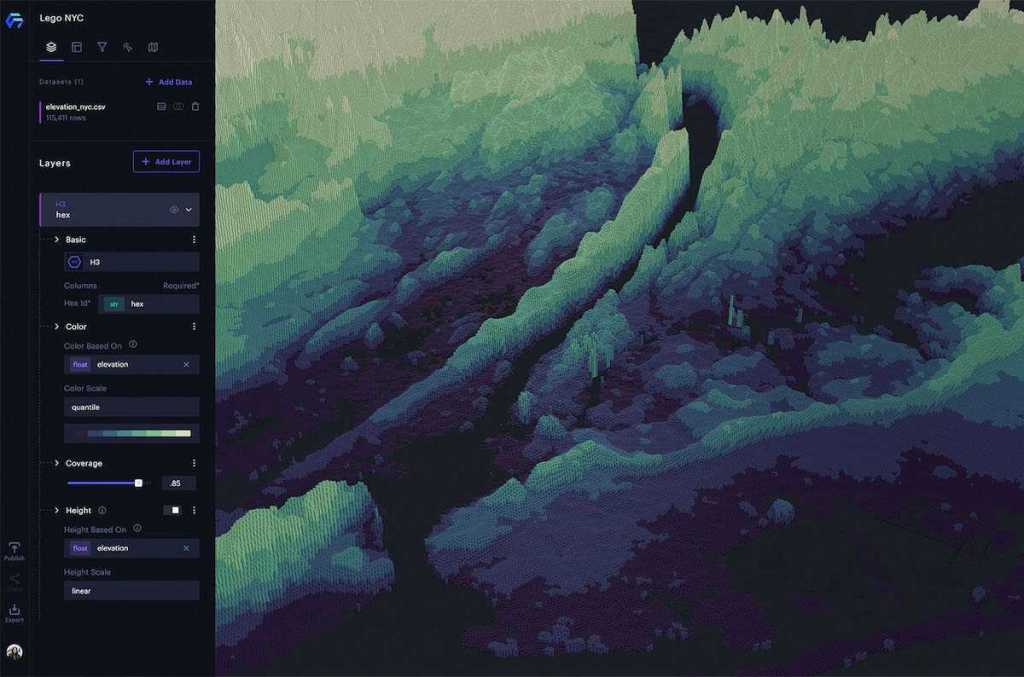 Today we are delighted to officially unveil Unfolded Studio, our take on what the next generation geospatial analytics and visualization platform should look like.
We, the Unfolded founding team, originally met at Uber around 2015 as we started building out what has now become a suite of leading open source geospatial technologies, including kepler.gl, deck.gl and H3.
By 2019, this technology stack had become quite mature, and we realized that an extraordinary geospatial platform could be built on top of it, so we came together to found Unfolded, a new geospatial company with a mission to build the next generation of geospatial analytics.
Our mission is to enable effortless geospatial and temporal data analytics at massive, planetary scales, and to share insights through geospatial visualizations that inspire with their beauty and fluidity.
Why Geospatial Platforms?
Geospatial datasets are unique among data sets, in that they can be presented in the context of maps and the physical world, rather than just as abstract graphs. This makes it possible for viewers to quickly comprehend and draw valuable insights from datasets that are orders of magnitude larger than would normally be possible.
Unfortunately visualizing data on maps is complicated. Ingesting, processing and interacting with geospatial datasets is computationally and technically demanding, especially when datasets become large, and users typically need to solve numerous problems before insights can be reached.
For a geospatial platform like Unfolded Studio, each of these problems represents an opportunity to help our users.
Enter Unfolded Studio
Our view is that any geospatial analytics platform worth considering today must offer its users a range of critical core features:
Effortless map creation
Strong exploratory visualization
Powerful geospatial analytics to help users uncover insights
Seamless cloud storage for geospatial data
Single-click map publishing
Easy ingestion of key geospatial data formats
Automation for getting data into and out of the tool
Ways to build custom applications on top of maps
Note that Unfolded Studio is designed to handle not only these core geospatial data management tasks, but more importantly is architected to address what we consider to be the hard problems in geospatial analytics. We will share our thoughts and roadmaps around this in a follow-up blog post.
Powerful Visualization Layers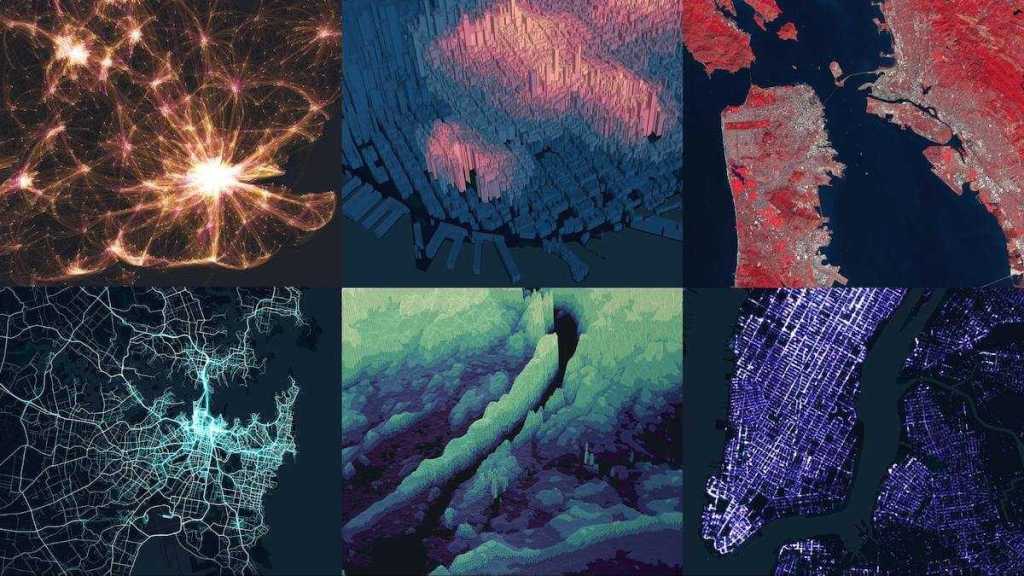 Unfolded Studio lets you show your geospatial data in context on maps through a rich catalog of visualization layers. These offer GPU-powered visualization capabilities that are designed to combine cutting-edge visualization techniques, unparalleled fluidity and an artistic touch that brings out the inner beauty of data and maps.
To see some of these visualization layers in action, check out our sample maps.
Quickly Gain Insight from Millions of Rows
Unfolded Studio offers fast client-side exploration of millions of rows of data. With quick functions like cross-filtering, aggregation, time-based animation and brushing,you can drop in your data and begin finding meaningful insights within minutes.
Analyze a Variety of Geospatial Data Formats
Unfolded Studio already supports many of the major geospatial data standards, including tabular data formats and row-based geospatial formats, such as:
JSON
GeoJSON
CSV
CSV+WKT
Shapefiles
Vector Tiles
Cloud-Optimized GeoTIFF
Support for additional formats are in the works.
Save and Share Your Map
All edits to your maps are saved securely in your account. With a few simple clicks, you can publish a snapshot of one of your private maps and share it with the world via URL on chat, email, or social media. Published maps are viewable on mobile devices and you can even embed your published maps on your own website.
Speed Up Your Data Operations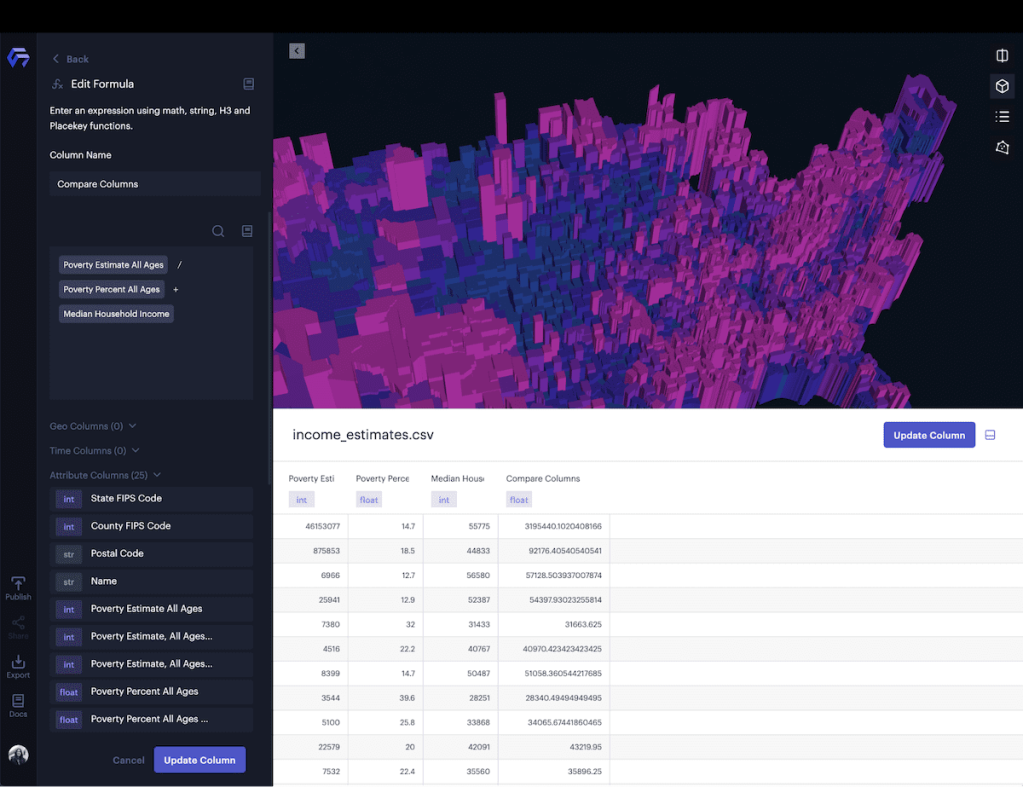 Analysts often have to spend significant time on data preparation before they can map it. Unfolded Studio lets users easily go from data preparation to insights all in one tool. Define new columns using mathematical expressions with a rich analytical function library and perform SQL-style operations such as table joins and aggregation directly within the point-and-click interface.
Securely Store Your Data and Maps
Unfolded Studio provides users with a dashboard to manage their geospatial assets with secure cloud storage. You can copy, download, delete, sort, or rename maps and datasets and open them for editing and publishing. Because not all users may want to store their data in the Unfolded cloud, enterprise customers have access to the Unfolded Data SDK described below and back-end integrations that enable alternative ways of storing and accessing data.
Build Custom Apps for Your Website
The Unfolded Map SDK is a javascript library that lets web developers build their own highly interactive web apps on top of published Unfolded Studio maps. The Map SDK offers a range of functions to position the map, turn layers on and off, and start and stop time playback. The API is rapidly being expanded based on requests from customers and our community.
Access Data from the Command Line
The Data SDK allows Unfolded enterprise users to access data in your Unfolded account, not only via web browser, but also from the command line. Large scale analytics services and data pipelines will also be available through the Unfolded Data SDK.
Tap into a Growing Data Catalog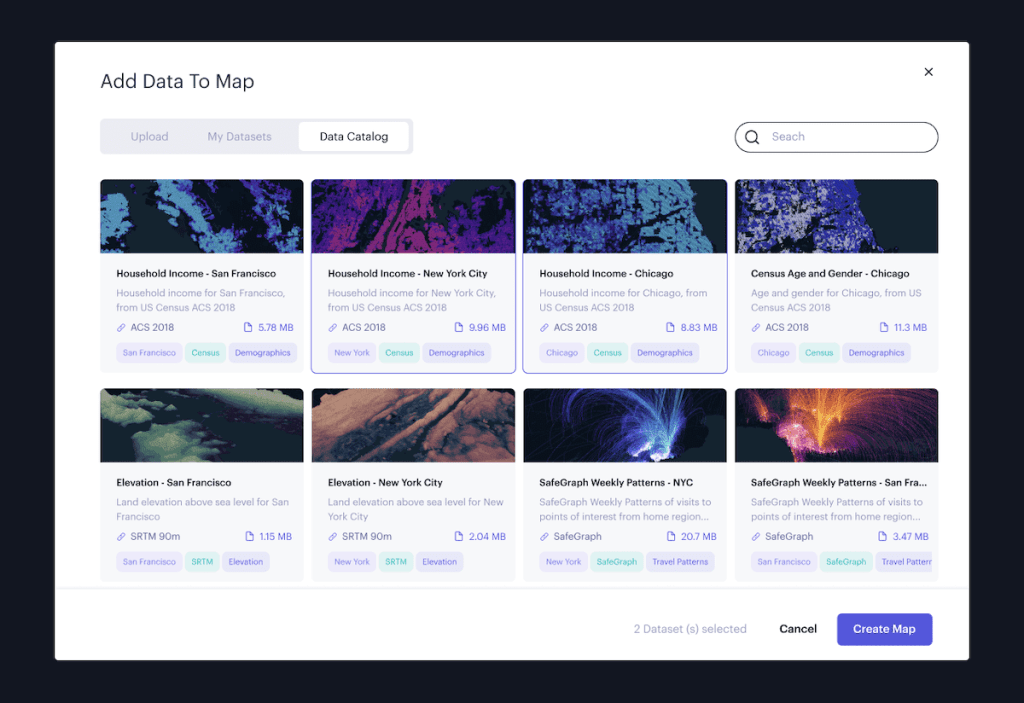 With time, our ambition is that a selection of the world's best geospatial data will become accessible directly in Unfolded Studio and integrate seamlessly with the platform's analytics features. The current Data Catalog is just a teaser, as it is still being developed. However, there are already a selection of useful sample datasets, including demographics and Placekey-equipped sample datasets from Safegraph.
Join Our Community
As founders of Unfolded, we have built and managed a number of very successful open source communities, including the kepler.gl, deck.gl and H3 projects. We strongly believe that working with users is crucial to building the best products, which is why we offer free Community Tier accounts to ensure that anyone can use our product.
Our community development program includes:
Free Community Tier Unfolded Studio accounts
Free access to the Unfolded Community (Slack channel) for support and inspiration
Biweekly releases of Unfolded Studio with new features based on community feedback
Access to proactive information sharing with roadmaps etc.
A safe, respectful and inclusive community
Sign Up Today
Want to be part of crafting what the geospatial tooling of the future should look like? Get started today:
Sign up for a free account at https://studio.unfolded.ai
Join the Unfolded Community. Get support, access to more amazing sample maps, join our discussions, and share your feedback to help guide us to build the right features.
A huge thanks to everyone that has helped make Unfolded Studio possible. We look forward to the road ahead with you all as we continue to advance next generation geospatial analytics.