Our booth featuring Foursquare socks, water bottles, and Swarm Frisbees!
A few weeks ago we sponsored LA Hacks, a hackathon featuring more than 1,500 developers — one of the largest hackathons in the world. Over 100 developers signed up for our API, and 20+ of those projects were submitted for an award.
Our goal here was to inspire young developers to dream up the next generation of amazing products and services, and provide them with the tools to make them a reality.
We educated 500+ developers about our Places API and hosted a workshop to help folks get started. This included teaching participants about how our venue search algorithm uses machine learning, billions of check-ins, and various phone signals to snap a given lat/long to a physical venue. Many of the developers in attendance had never used our API previously, which made it even more exciting to see what they could build in just under 36 hours.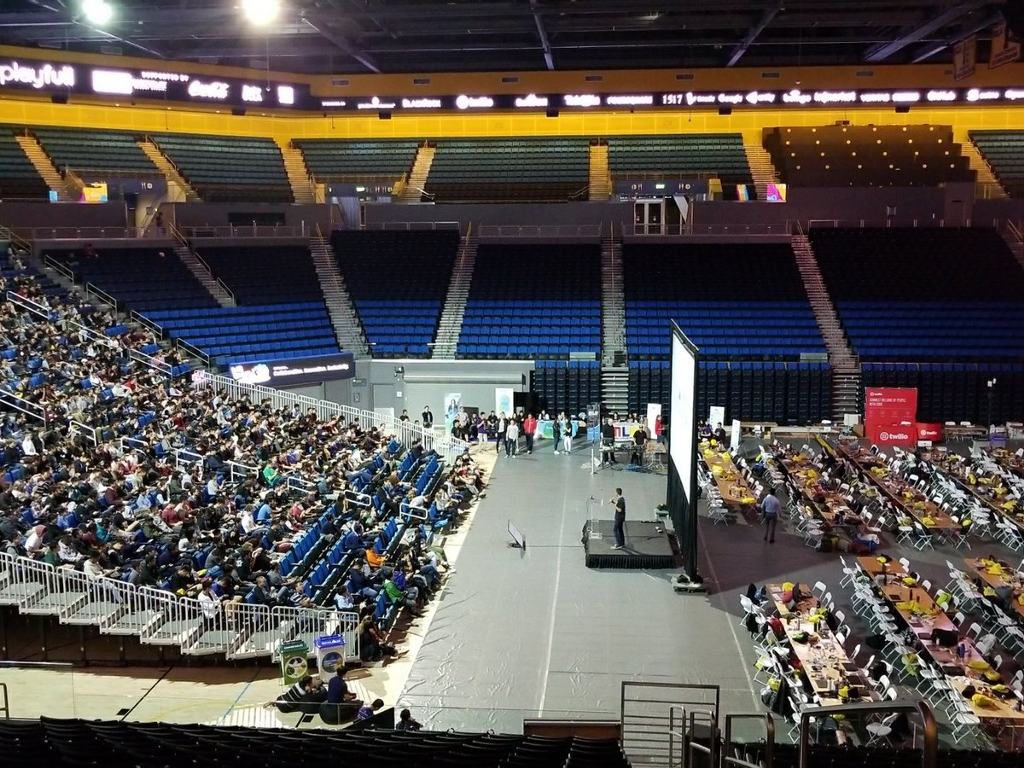 I truly feel the hackathon produced some really inspiring projects, some of which use our technology in a completely novel way—so we want to highlight some of the most creative and dynamic innovations that came out of the event. It's pretty incredible to see what developers can create with just their laptops, energy drinks, creativity, and a passion for building.
WaitNoMore: An App to Slash Restaurant Wait Times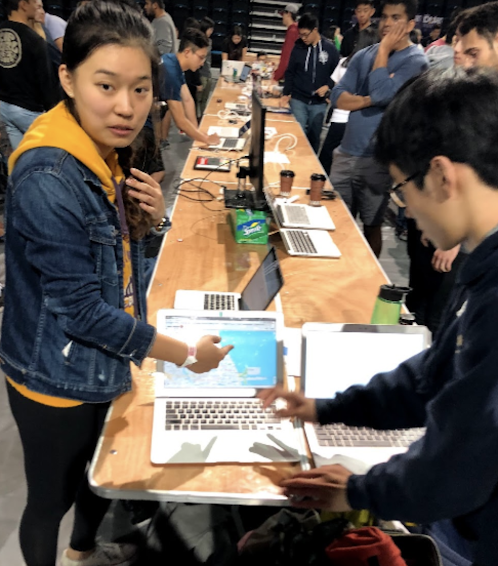 The creators of WaitNoMore (Kylin, Dian, Jiaxio, and Guanxin) demoing their web app
WaitNoMore was built to help people cut down on the amount of time they spend waiting for food at a restaurant. They used our venue recommendations and menu APIs to first find available restaurants and the dishes that can be ordered at a given venue. Then, using our location data and their food-prep algorithm, WaitNoMore determines an estimated restaurant wait time based on a person's specific food order. The ultimate goal of the project is for users to be able to reserve a seat at a restaurant and order food, all in one app, and then have it be ready upon arrival.
4SK8: A Smart Skateboard That Lights Up in the Direction Your Destination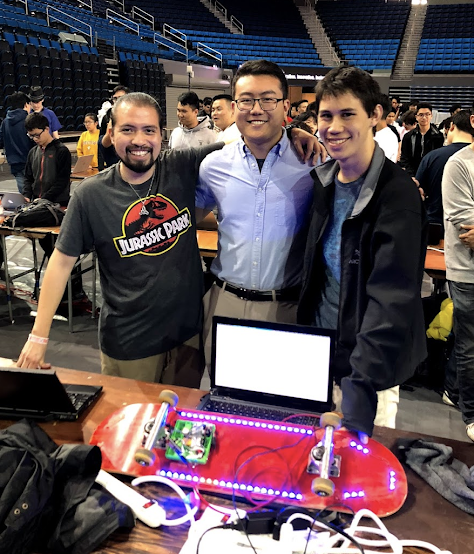 The creators of 4SK8 (David, Chi, and Alex)
4SK8 is a prototype of a skateboard that uses our Places API, along with an Arduino processor and on-board sensors, to guide a rider to their selected destination. The skateboard first finds the delta from the current to the previous GPS coordinates to extrapolate the cardinal direction. Next, it takes the coordinates of the Foursquare venue, and uses colored LED strips soldered into the bottom of the board to light the user's path. We found this to be a great blend of both hardware and location data to assist people in exploring the world. It's also a great demonstration of how our data can be used to power personal vehicles and maybe eventually, autonomous cars.
PetSnap: A Social Network for Pet Owners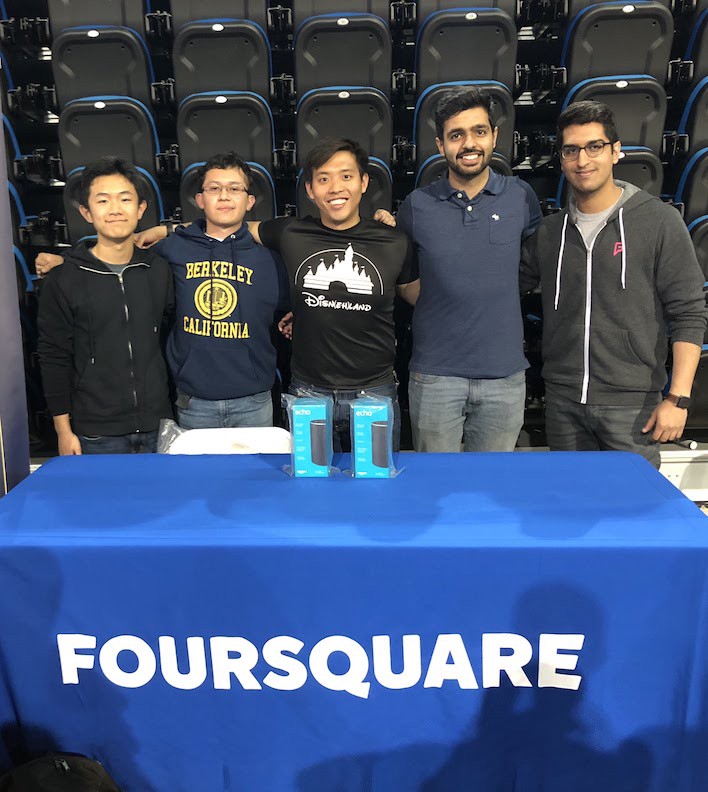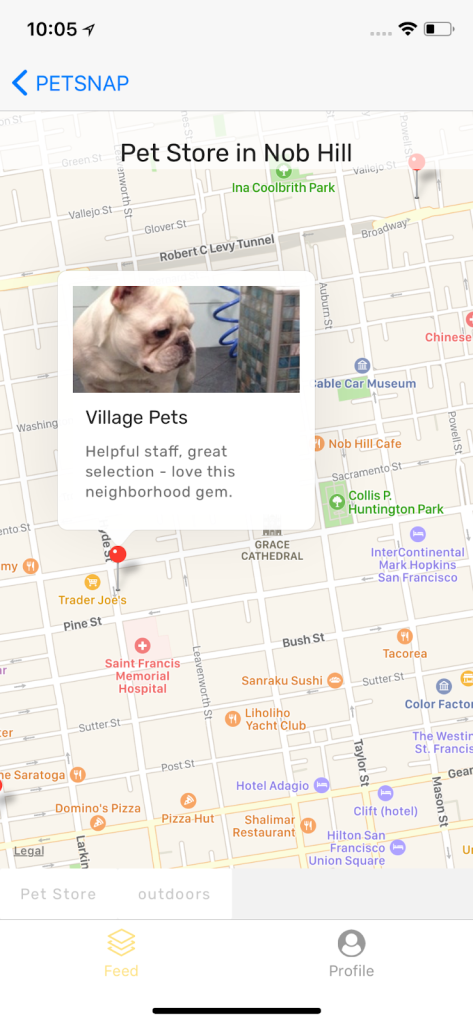 The creators of PetSnap (Raimie, Betochi, Calvin, Bhavesh) with Arin
PetSnap was built to help pet owners quickly and easily find everything they need for their pets, from grooming services to toy stores, all the while helping them to connect with other pet owners. They used our Places API and granular category list to surface pet stores, services, and parks, so pet owners can find exactly what they're looking for at a glance. Exploring new places and meeting up with people in the real world was a core principle that Foursquare was built on, so it was great to see this concept applied to the pet owner community.
That's a Wrap (For Now)
It was exciting to spend the weekend with a group of such talented developers who were passionate about building unique and innovative applications with our API. Many of these individuals plan on continuing to iterate on their weekend projects and build them into scalable products and services.
Have an idea you want to build out using our API? It takes only a few minutes to sign up here and make your first API call.
We're also hiring! Be sure to also check out our open job listings.