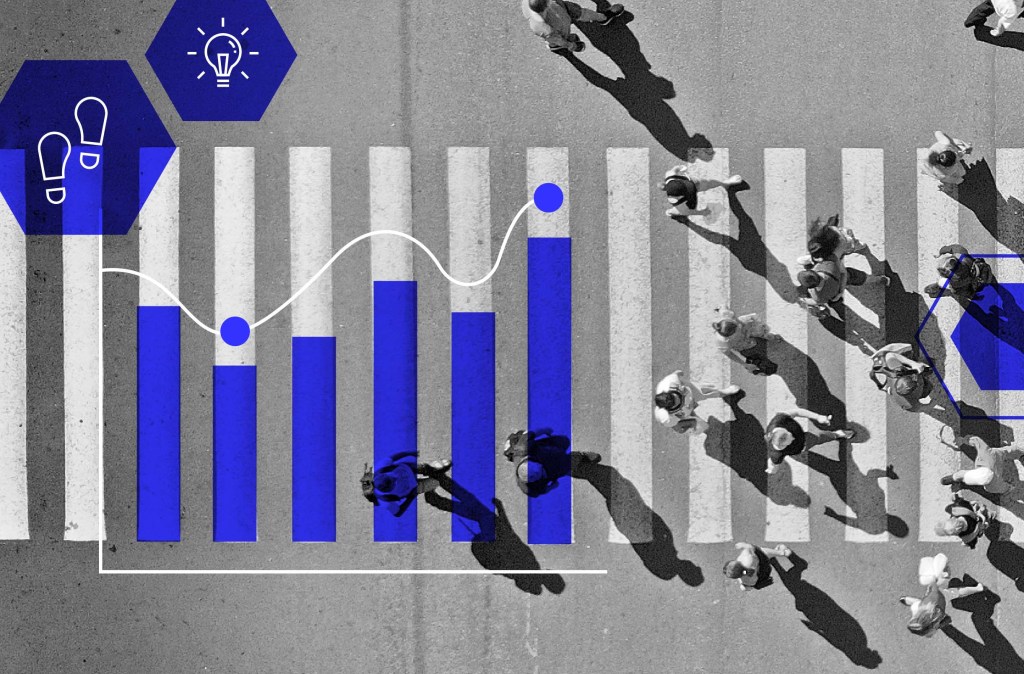 Insights from Consumer Foot Traffic Data
E-commerce stores and various dropshipping sites are all the rage these days. While the digital retail sector has undeniably exploded over the last decade, brick-and-mortar shopping remains a staple of the American consumer experience.
According to 2021 data, brick-and-mortar stores made a comeback in terms of physical locations and sales. For starters, sales in 2021 grew by 8.2% year over year, with total spending outpacing 2019, the year prior to pandemic lockdowns. In addition, the planned number of physical store openings was twice that of those slated to close in 2021, showing a return to in-person shopping after the 2020 pandemic.
These statistics demonstrate that the in-person retail sector is alive and well, which bodes well for the odds of launching a successful physical retail business. However, for an endeavor to thrive, any business will need to perform due diligence and select the ideal location, and to do that, you will need to leverage consumer foot traffic data.
With that in mind, join the Foursquare team as we explore how to work with foot traffic data and to better understand how it can guide the decision-making process. We'll even outline some powerful tools that can be used to perform foot traffic analysis and ultimately deliver real-time insights about consumer behaviors in an area.
Understanding Consumer Foot Traffic Data
"Foot traffic" is a broad term that describes how many prospective customers enter the vicinity of a retail location, which may be an indoor mall, outdoor shopping center, or busy downtown street.
Foot traffic data is closely monitored by business owners in the retail space, as it is a meaningful metric for those that sell items like clothing and sporting goods.
Before leasing a space for your business, it's important to carefully research foot traffic trends. In doing so, you should assess movement trends at various times and days of the week. Most malls, for instance, experience heavy foot traffic on Friday evenings and Saturday afternoons, while many experience major declines during weekday work hours.
As part of this research, you should also examine other geospatial data, such as weather patterns, vehicular traffic, and specific demographic information. You'll also need to consider the businesses located in or around the space that you are interested in.
Ideally, you'll want popular, non-competing businesses positioned near your store, as these companies will draw in foot traffic that can be leveraged to attract new customers to your own business.
How to Leverage Foot Traffic Analysis
Once an analysis of foot traffic has been conducted, you can leverage these new insights to do the following:
Plan a New Location for a Store
The most common use case for foot traffic analysis involves identifying an optimal location for a new store. Consumer foot traffic data should be accounted for long before committing to a lease, and if a location seems viable, then proceed with the location as planned.
Assess the Maturity of Specific Markets
Foot traffic analyses can also be useful for assessing the maturity of specific markets. For example, you could use such a strategy to determine whether a newly-opened business park is generating enough traffic to potentially support a new store.
Identify Seasonal Opportunities for Businesses
Foot traffic, much like retail spending in general, follows somewhat predictable seasonal trends. Naturally, foot traffic at department stores will be at its peak in the lead-up to and including the holiday shopping season. By tracking such trends, you can identify opportunities to generate more business by increasing marketing spend throughout this time.
Obtain Competitive Insights
Consumer foot traffic data can help you assess the activities of competitors. If an industry competitor has recently opened up a successful new storefront in your area, it might be worthwhile to monitor their traffic and online marketing tactics to see how you stack up.
Analyze Industry Trends
Like most companies, a new business will probably use a combination of both in-person and online sales to deliver products to customers. If so, it's important to monitor industry trends so that you can adapt to shifts in consumer spending habits.
For example, if brick-and-mortar spending in a related industry increases, it might make sense to adjust marketing strategies to generate more traffic to your stores. Conversely, if consumers lean heavily into online shopping, consider offering some great e-commerce deals to get their attention.
Determine ROI
By combining consumer foot traffic data with other performance metrics, the return on investment from marketing efforts can be effectively assessed. For instance, you can compare a location's foot traffic to its e-commerce site's traffic as a means to determine the percentage of online visitors who are also visiting one of your stores and vice-versa.
Importance of Preserving Consumer Privacy While Using Foot Traffic Data
Anytime consumer data is gathered and assessed, you must adhere to relevant privacy requirements. Doing so has become especially important with the creation of legislation like the California Consumer Privacy Act, which, along with similar bills, holds retailers accountable for misused consumer data.
While these acts have many different provisions, here are two key considerations you need to be aware of:
Opt-in Requirements
Most tracking efforts will begin online, so there must be transparency about tracking practices and you must give consumers opportunities to both opt-in and out. Failing to do so could diminish consumer trust in your brand, and it may make you susceptible to fines under such laws as the CCPA. Penalties are often assessed on a per-offense basis, meaning a fine could be incurred for every visitor's data that's been collected without consent.
Data Security
When a customer opts in for tracking, they are entrusting a business with their data. Consumers that voluntarily provide contact information or identifying data are putting even greater trust in your company – it's essential that you honor it.
Once customer data is collected and stored on your platform, you are responsible for its security. A single misstep could make you vulnerable to a data breach, which could lead to customers' information being exposed, and if that should happen, a business risks severe penalties and more critically, reputational damage with the loss of customer trust.
How to Get Foot Traffic Data
There are numerous ways to obtain consumer foot traffic data. A few of the most popular collection tools include:
Anonymous mobile device tracking software
Artificial intelligence (AI) technologies
Video camera solutions
Pressure mats
Thermal sensors
Manual counting
Regardless of how data is collected, you will need a way to analyze it in a privacy-first way, and that's where Foursquare comes in. We offer several sophisticated geospatial data solutions that can help you collect, assess, and make valuable use of these trends.
Our suite of tools includes the following:
Places
If you're looking for the ideal site for a new storefront, then you should check out Foursquare Places. As a points-of-interest (POI) platform, Foursquare Places provides better data that can be used to maximize your return on investment. The Places platform takes the guesswork out of site selection, meaning you can find the most valuable location for your next brick-and-mortar store, with ease and at speed.
Attribution
Traditionally, achieving a holistic view of the customer journey has been incredibly challenging, but now it doesn't have to be, thanks to Foursquare Attribution, a dynamic tool that allows you to understand the impacts of online advertising so that you can make data-driven marketing investments and optimize the ROI of ad spend.
Connect with Foursquare to Learn More
Now that you understand the many use cases for foot traffic data, it is time to start analyzing it by implementing the right tools to unlock value. Foursquare Studio offers a robust collection of solutions and applications to analyze geospatial data, identify trends, and guide decision-making processes.To learn more about how we can help you visualize and assess large-scale geospatial data, connect with our team.