For many Americans, the past week has been spent reflecting on the things that matter most. At Foursquare, that's also true, as we tallied up the votes for our first-ever Foursquare for Good program. In September, at Bloomberg's Data for Good Exchange conference, we opened up a call for entries from nonprofit organizations to submit ideas for how they would use our location technology platform to create a better world. The winner is granted free access to our tech, critical engineering resources, as well as a $10k contribution towards the project. The response was overwhelming and truly inspiring.
More than 35 academics, nonprofits, and developers submitted proposals for how they would use the Foursquare Places API and Pilgrim SDK. Entries described how our tech could be leveraged to motivate young Americans to vote, to creating delivery systems that reduce food waste in major cities.
And yet, one proposal truly stood out for its commitment to solving one of the most pressing mental health issues of today. It is my great pleasure to announce our winner: Objective Zero!
Objective Zero is a mobile app and 501©(3) nonprofit that anonymously connects veterans to suicide prevention resources and a community of veterans, counselors, and concerned citizens. According to the VA, on average 20 veterans and active service members take their lives every day. This is more than twice the rate of non-veterans. It's an alarming statistic and one that can be greatly reduced or even eradicated with contextual resources and timely intervention.
Objective Zero is developing life-saving technology to provide at-risk veterans and active service members with life-saving support — without them needing to ask for it. Currently, Objective Zero uses the locations of its users to facilitate connections with local peer supporters. And the company has ambitious goals to leverage Foursquare's location technology platform to deliver even more tailored services to users at imminent risk.
"Objective Zero has developed a platform and designed a machine learning algorithm to truly preempt and respond to suicidal ideation. We seek to leverage geolocation technology to detect when veterans are most at risk and deliver location-based resources to them. We are excited for the opportunity to work with the talented team at Foursquare, and with the funding and software development they are providing, we will be able to bring our big ideas to life to best serve the needs of veterans who have risked so much in service to us." — Kayla Bailey, CTO, Objective Zero.!
Objective Zero's machine learning risk assessment methodology plans to use location and movement patterns as a proxy for assessing mental health. For example, if a veteran user who is typically very active and goes to the gym regularly suddenly becomes inactive for several days, this may indicate a growing struggle with depression. In response, the app would suggest activities that are proven to reduce depression, such as meditation or yoga, or deliver tailored messaging about mental health and PTSD. Additionally, resources for veterans can vary greatly from state to state, so Objective Zero also aims to connect those leaving military service to local community support networks designed to ease the transition to civilian life.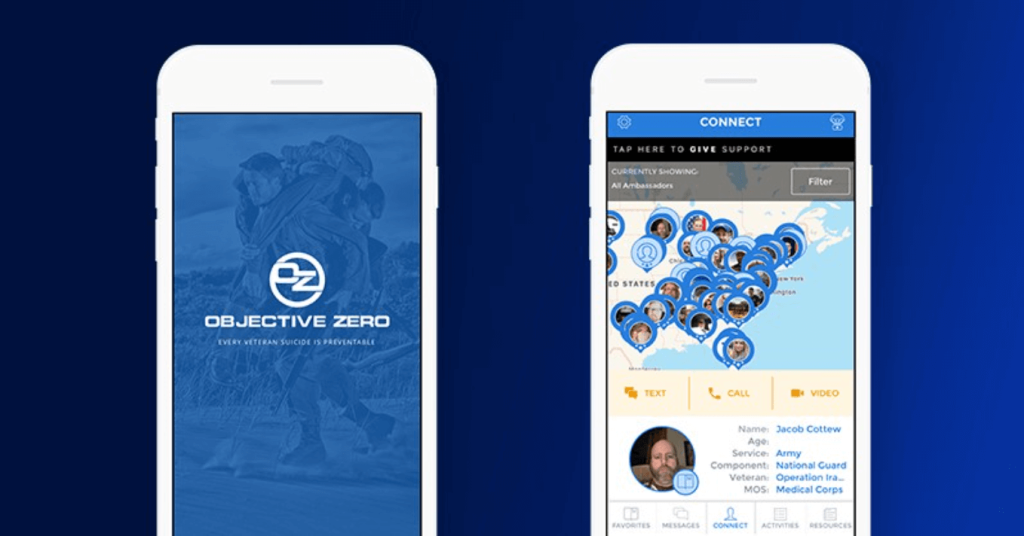 Understanding location and delivering contextual notifications and resources is exactly what Pilgrim SDK was built to do. In the last year, Pilgrim SDK has been selected by AccuWeather, Tinder and TripAdvisor to connect with millions of consumers at the right time and place. Our tech is more accurate than any competing technology in the market, thanks to our first-party panel of more than 10 million people which gives us our precise understanding of places according to a phone's eye view; our industry-leading stop-detection technology; and our best-in-class dwell time understanding. It's the Foursquare superpower, and we're so proud to open it up to Objective Zero, where it will help provide life-saving services to individuals at imminent risk based on changes in patterns and real-world behavior.
Our panel of jurors included leaders in tech, venture funding, philanthropy, and engineering. Though it was a tight race, Objective Zero rose above the competition. Here's what our jurors had to say:
"When we opened up our API and Pilgrim technology to the developer community our vision was not simply to enable location-aware experiences, but to build technology that helps foster meaningful connections between the digital and physical worlds and truly make the real world a better place. I love that that vision is alive and well with this initiative, and I can't wait to see our work with Objective Zero come to life." — Dennis Crowley, Co-Founder and Executive Chairman, Foursquare.
"The work that Objective Zero is doing is a truly innovative idea that uses our technology, in combination with machine learning work on their end, to create a mental health solution that does not yet exist. Objective Zero's use of visit data to help identify pattern-based changes that reflect mental health shifts makes perfect sense and has the potential to save lives. I am proud that the technology that Foursquare built will be supporting this necessary tool." — Matt Kamen, Senior Vice President of Engineering, Foursquare.
"Objective Zero harnesses the power of technology and location-based data to build meaningful connections between veterans and tackle a significant societal challenge. They are an extremely deserving recipient of the Foursquare for Good award and I look forward to watching them expand their platform and increase their impact through Foursquare's location technology." — Tess O'Brien, member of the Bloomberg Associates media and digital strategies team.
"People are often reluctant to talk about their mental health. Using location data to gather a behavioral signal provides an interesting alternative for early detection and intervention. This could save lives of veterans and eventually many others at risk." — Albert Wenger, Managing Partner, Union Square Ventures.
"Among Americans ages 15 to 34, suicide is the second leading cause of death — and veterans are especially vulnerable. Objective Zero's efforts to support those at risk is vital to decreasing the number of suicide deaths." — Gideon Mann, Head of Data Science, Bloomberg.
This is just the beginning of the work Foursquare will do under our banner of Foursquare for Good. If you're interested in talking to us about our plans, next year's competition, and other partnership opportunities, visit Foursquare.com/for-good or email ForGood@foursquare.com.