A word from Dennis:
When we started Foursquare over a decade ago, we never imagined the incredible evolution we'd undergo as a company. What started as "the check-in app" quickly outgrew the confines of even our most ambitious expectations, evolving into what's seen today as the unapologetic leader in location technology.
Our data tell stories about how people move through the world. Since day one, our focus has been on inventing the future of what's possible with location technology. Today, our data and technology enable new mobile experiences across thousands of apps, improve advertising and marketing through a deeper understanding of people and places, and help to shape the stories our customers and partners tell about their own brands. What's more, our data and technology are helping to make the world a better, safer place. Foursquare for Good has contributed to numerous important projects over the years, including finding ways to make our foot traffic data accessible to those helping to contain the pandemic. We see no limits to the ways location technology can be put to work.
There has been no shortage of challenges and growing pains along the road. We've seen colleagues come and go, braced ourselves through periods of fluctuating success, and we've expanded by bringing Placed and Factual under the Foursquare umbrella. Through it all, we've never wavered in our efforts to protect consumer privacy while paving a path forward for our business and our industry. And, we've continuously delivered delightful experiences for both our enterprise customers and consumer-app users.
When you've been through as much growth and change as we've been through, it doesn't come as a surprise that your brand – your identity as a company and culture, both internally and externally – must also evolve.
Of course, rebranding is no easy feat. There's so much to consider: what story do you want the new brand to say about your company? What elements of the past do you want to preserve? And, when is the right time to undergo such a massive undertaking?
Finding the answers to these questions (and so many more) took months, but here's a quick pass at the story of how we went from "the check-in app" to where I felt we should be: an enterprise brand with swagger.
Facing the reality of our identity crisis
We didn't wake up one day and realize we were no longer solely a consumer brand. In fact, our expansion into B2B and SaaS was strategic and intentional. But still, it hasn't always been easy to reconcile our consumer brand heritage with our accelerating success in the enterprise space. We needed a brand identity that paid homage to our heritage while simultaneously underscoring our credibility and instilling trust with both businesses and consumers.
Why now?
Yes, who we are as a company has been reshaping for years. But about a year and a half ago, we made a monumental move that set our company on the fast-track to become the undisputed leading independent location data company in the world: we acquired Placed.
Then, earlier this year, we merged with another big player in the location technology space: Factual.
After both an acquisition and a merger, our internal culture underwent immense evolution in tandem with our deepening bench of products and the enrichening of our data sets. This made our reasons to reexamine our brand identity too big to ignore.
Now what?
Recognizing you have a bit of an identity crisis on your hands is one thing – figuring out how to solve the problem is a journey in and of itself.
A Simple, Scalable System: The old identity was complicated because we became many things to many people over the years. We needed a simple, scalable system that allows us to say anything, while organizing the chaos around it.
After many internal brainstorms (and well-intentioned debates) and many meetings with the experts over at PLAYLAB INC., we came to four conclusions:
Our new brand identity needed to capture the trademark playfulness that has always been synonymous with the Foursquare name.
At the same time, the new brand identity must let clients know that they can trust us, while simultaneously being culturally contemporary and interesting.
The brand identity must set a tone of independence and empathy.
And finally…this new brand identity was going to be cool, but it needed to be executed in the right way. We needed to bring in someone who is creative and directive (a creative director, if you will) to lead the charge.
"When PLAYLAB INC. was approached to rebrand Foursquare, we asked the same question everyone who's probably reading this asked: What's Foursquare been doing? The answer: a lot." – PLAYLAB INC.
Enter David Godycki…
An inside look from David:
I joined Foursquare as Creative Director a little over a year ago at what proved to be a serendipitous time for the company. With the acquisition of Placed still fresh, there was a sense of urgency and enthusiasm to dive right into a full rebranding effort. Working closely with PLAYLAB INC., we got to work building on the foundational work already done.
The project took on extra significance with the Factual merger, as the new brand identity is now a symbol of three distinct companies (and cultures) coming together. Still, our core purpose as a company remained the same: to create meaningful bridges between digital spaces and physical places. Therefore, our new brand identity needed to be a simple, credible system that helps us communicate complicated data narratives while connecting with humanity and culture. As Foursquare continues to shape and define the industry our brand must be able to continually develop and evolve.
Everything should be new…except for the name.
Introducing: Foursquare Everywhere.
After months of intense work, we arrived at a brand identity that we feel perfectly encapsulates who we are and where we're headed. The end result is a pared-back look that, in its simplicity, actually feels quite bold. Intentionally minimal in aesthetics, it's designed to scale as the company grows.
"We've designed and built a simple but powerful brand system that allows the brand to deliver a message with transparency and pragmatism, but not without some much-needed idiosyncrasy, and most importantly: artfulness." – PLAYLAB INC.
The artifacts of Foursquare's previous life needed to be left behind. The colors, the typography, the logo, photography and art direction move past where Foursquare was, and show the public where we're going next.
Contemporary, adaptive, credible
This brand identity is timeless, yet contemporary. It's credible and independent, and stands out from the crowd with authority and swagger.
The new brand identity…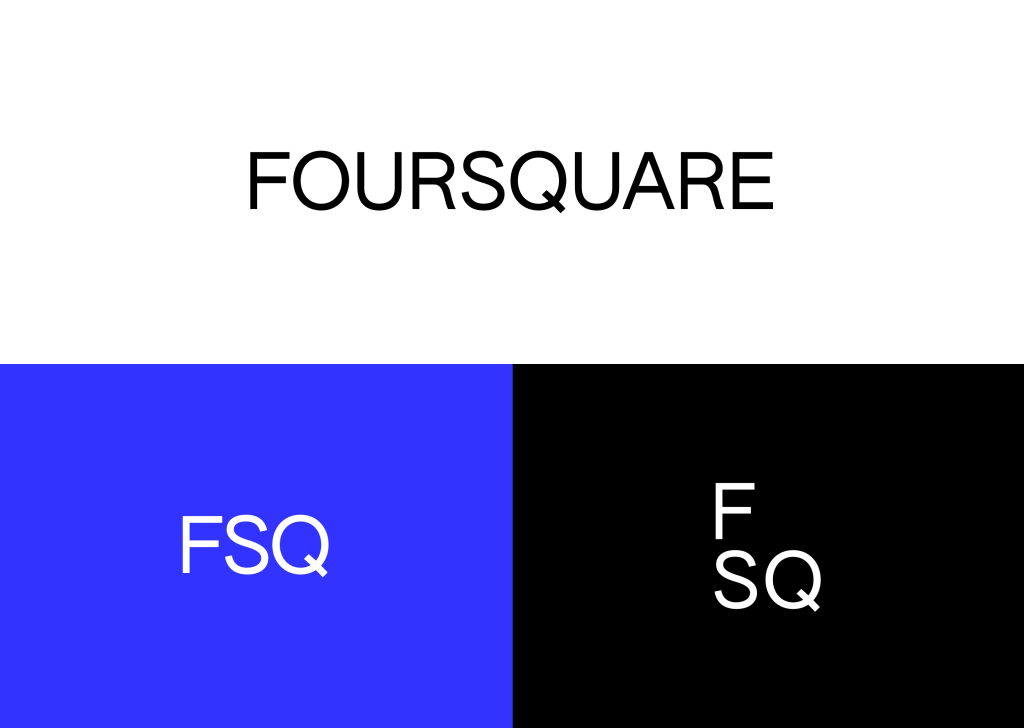 Sheds the artifacts of the old Foursquare (typography, colors, logo, etc.)
Brings an element of data and code to the logos and typography that connects our rich heritage in technology and product development.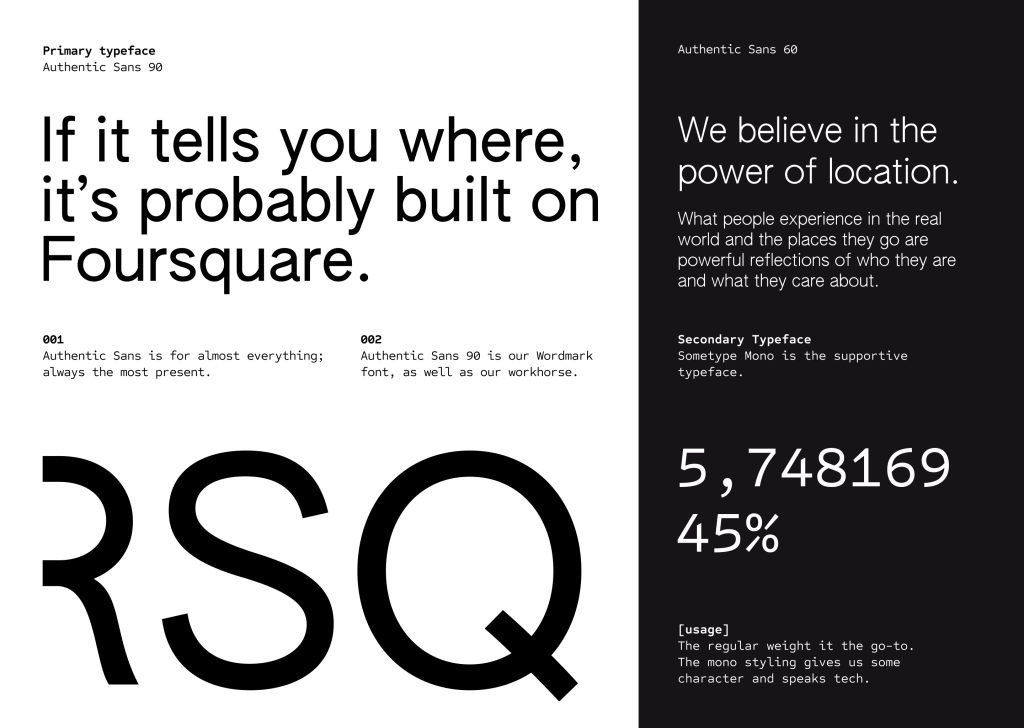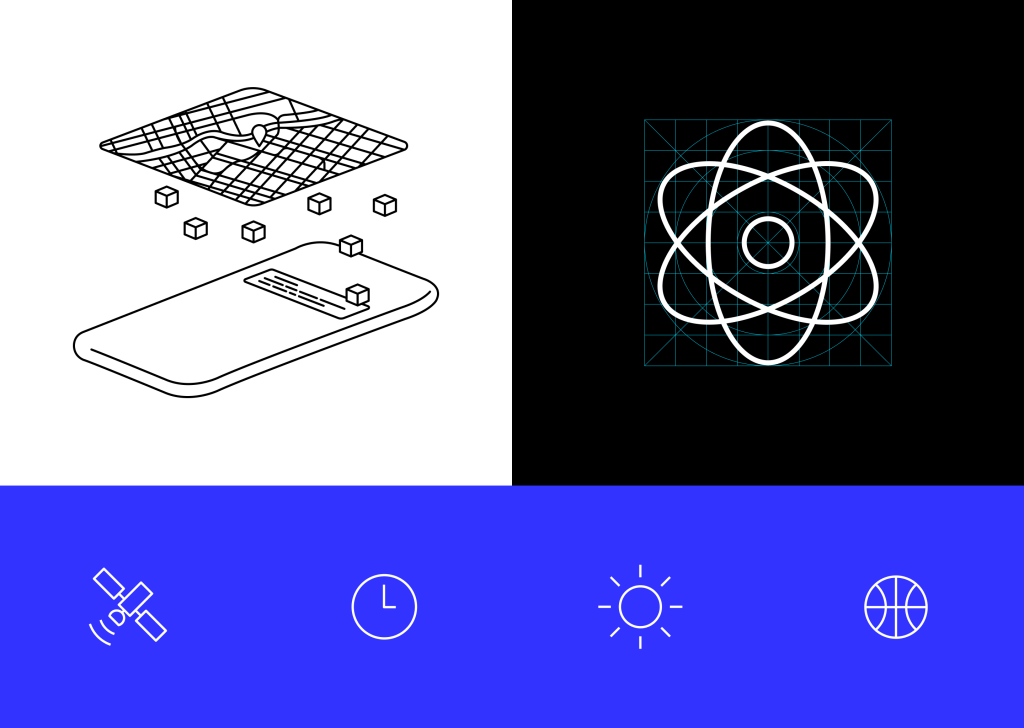 Tells complicated data stories without the weight of noisy or excessive visuals
Eschews frivolousness in favor of authenticity…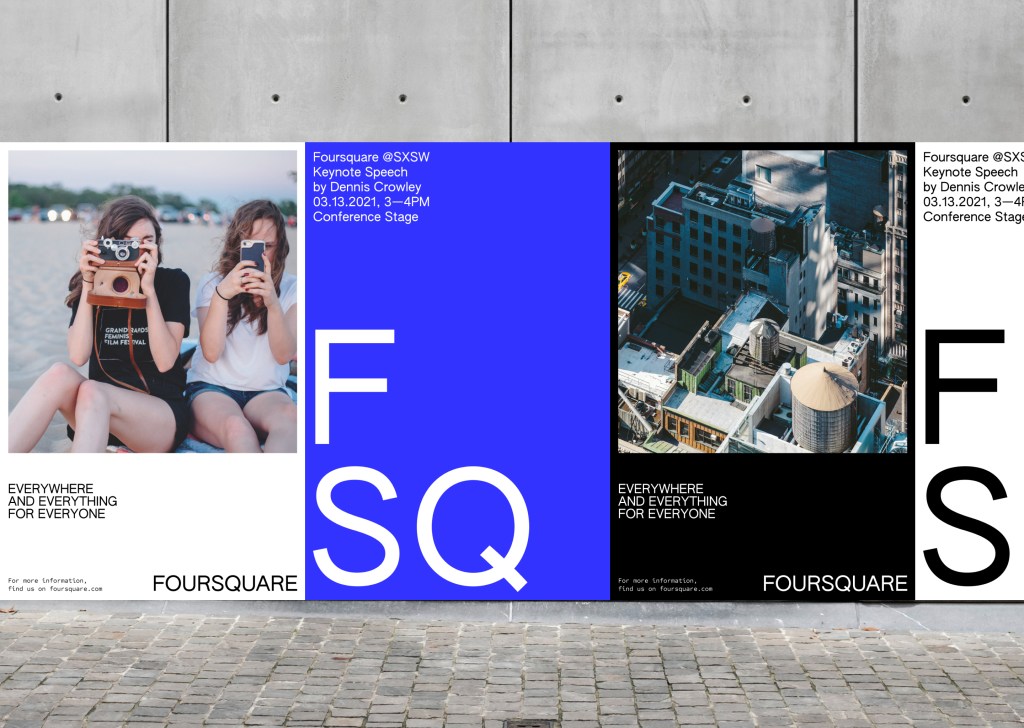 Designed and built in partnership with Fictive Kin
Our brand is an ingredient
Foursquare should be an ingredient that enables the success of the best brands in the world. It is not just our location data that creates the magic, but also our energy, our culture, and our boundless pursuit of excellence. If we've done our job right, our brand will live on the websites of our customers and partners as a badge of honor.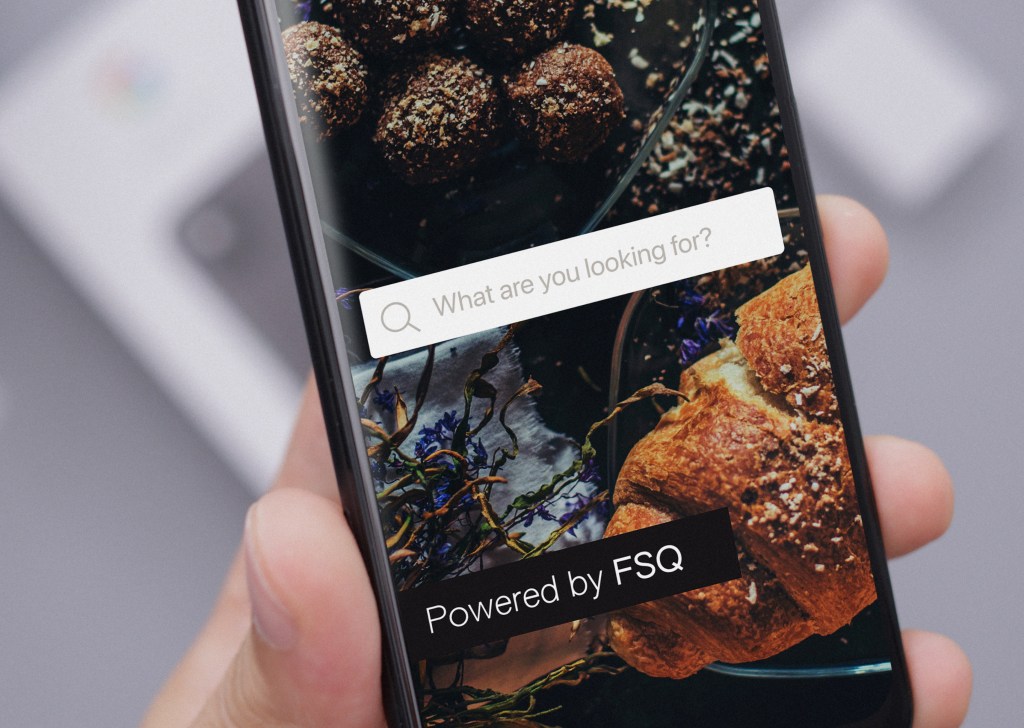 So, what does 'Foursquare Everywhere' mean?
'Foursquare Everywhere' is both a rallying cry and an articulation of our strategy. Internally, this phrase will inspire our employees to keep building and improving the Foursquare technology and data that already powers apps and tools used by millions of people everyday. Externally, 'Foursquare Everywhere' tells the world (including consumers, customers, partners and more) not only what our vision for the company is, but also hints that today's Foursquare tech is likely already baked into the products and services they're using daily.
We set out to build a brand and a company that is accessible to all. We are an open, independent platform, and we want to work with everyone. Our vision is to create a world that is Powered by Foursquare.
It's been a strange and unusual year, one that has undoubtedly permanently altered the landscape of innumerable industries and changed the way that we all move through the world. Despite the strains and challenges that the pandemic has placed on us all, it nevertheless feels fitting that we will emerge from this period of time with a new brand identity, ready to begin the next chapter in Foursquare's journey. With this new identity, we hope to continue the trend of profitability we experienced in the second half of 2020, to keep being the X factor ingredient to our customers and partners' success, and (most of all) to keep inventing the future of what's possible with location technology.