Under today's current reality, the advertising playbook is effectively thrown out the window, offering both a mix of uncertainty and excitement at how advertisers and brands can capture consumer attention as consumers re-learn their past purchasing behaviors — or learn new ones — as they start to move about in the real world again.
There is opportunity ahead for advertisers and brands to adapt to the consumer climate today. Preparing for the bounce is a tall task, but with the right insights, advertisers can unlock new brand loyalists.
Location-based data is a truthset that advertisers have long looked to, recognizing that how people move through the real world is a strong indicator of how consumers engage with a brand. With consumers beginning to step outside their homes again, location data offers a deeper understanding of how advertisers can optimize their campaigns to engage with consumers in this new normal.
Foursquare Attribution (formerly known as Placed powered by Foursquare) has been helping thousands of advertisers, publishers and platforms understand the true value of online-to-offline ad campaign effectiveness and turn these learnings into actionable insights. In a recent audit, we analyzed more than 3,000 campaigns run on Foursquare Attribution and found that there is an opportunity for clients to further optimize their campaigns based on the learnings they get from their Foursquare Attribution dashboard.
Here's a look at how brands can unlock improved campaign optimization:
When looking at optimizations solely based on geography, we found that if clients optimized half way through their campaigns by segmenting based on their location (specific by state), 56% of those campaigns would have shown improvement in incremental lift rate, with the median improvement in incremental conversion rate at 18%. For conversion rate, we also see optimization potential for 85% of campaigns and a median improvement of 16%.
For other common optimization variables such as Age, Gender & Line-Item (e.g., a client-defined campaign segmentation), you can see the following improvements in campaign performance: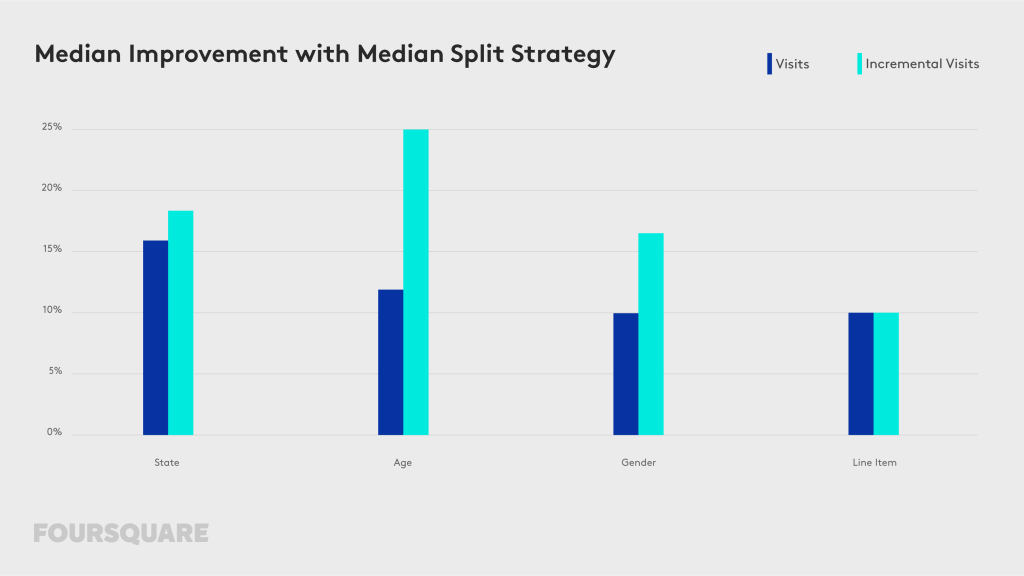 Taken together, these show that advertisers and publishers are likely missing out on opportunities to improve key campaign-specific business metrics. Optimizing campaigns using geography (e.g., City, State, DMA) is straightforward within your Foursquare Attribution dashboard.
Optimization in the wild
For example, a chain of hair salons wanted to optimize a campaign focused on improving attributed visits. By focusing on state-level performance over the first 17 days of their campaign, they reallocated budget to certain states and continued to analyze the performance over the next 2+ months.
With the insights from Foursquare Attribution, this chain decided on a strategy of choosing states with better than median visitation rates and positive lift. The following graph shows the change in metrics from the evaluation period to the test period: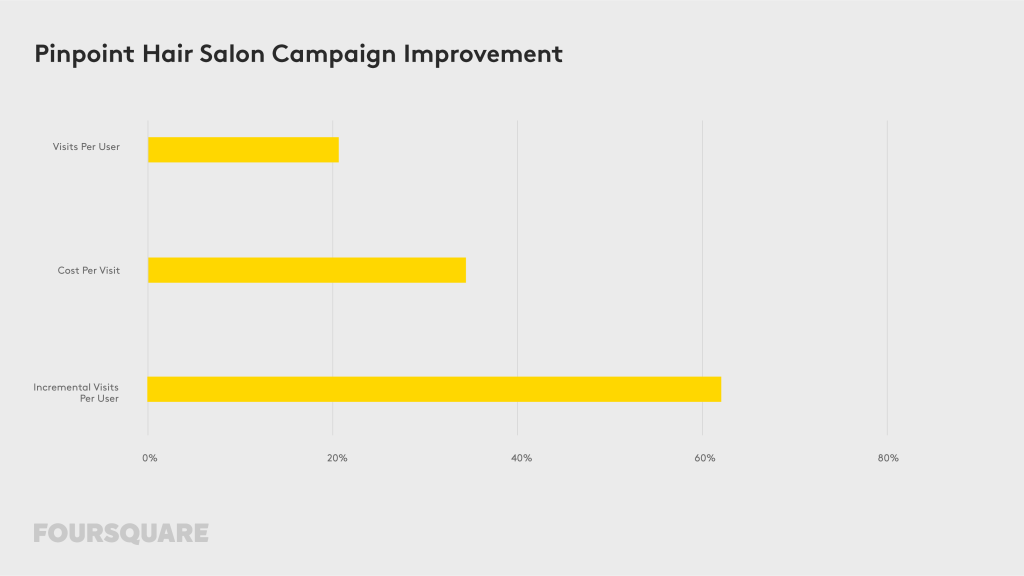 Consistent with the goals of the optimization, we saw increases in key visit-related metrics such as visits per user (~21%) and cost per visit (decreased by 34%) as well as incremental visits (+61%).
Through our audit of the current state of optimization across recent Attribution clients, we can measure the potential for optimization across a large number of campaigns and validate a simple optimization strategy in an actual campaign.
From our findings, we recommend:
* Attribution customers have an opportunity to unlock more optimization strategies on their ad campaigns, with proven success.
* Even with simple optimization improvements, it can improve key campaign metrics such as visit- and incremental visit-rates by 10% to 25%.
* In the context of an actual campaign, optimization using a simple geographic optimization strategy resulted in double digit improvements to key performance metrics.
Exploring the potential for optimizing offline campaigns is an active area of research at Foursquare. In future posts, we will explore other optimization strategies and test cases. We hope that these results inspire Attribution users to take advantage of the existing opportunities to improve the efficiency of their offline marketing campaigns. If you are an existing client or just getting started with location-based advertising, let's chat!