Popular mobile app The Points Guy will be leveraging Foursquare's Pilgrim SDK to help users maximize their points, miles, and travel rewards.
With summer now upon us, travel is on the rise. In fact, consumers are especially eager to book trips given the pandemic's impact on travel last year in what's expected to be a "sold-out summer." That's why Foursquare's latest partnership with The Points Guy, a leading travel and lifestyle platform focused on maximizing travel experiences while minimizing spending, comes at just the right time.
"We are thrilled to partner with The Points Guy, a longstanding pioneer in the travel industry," said Patrick Hu, Managing Director, Business Development & Product Partnerships at Foursquare. "Their loyalty points-maximizing use case is a perfect example of the clear value exchange that users deserve from a location-driven mobile experience and is exceptionally well-aligned with Foursquare's transparent and user-centric mandate with Pilgrim SDK and our developer tools at large."
A top choice for travel plans this summer and beyond
The Points Guy App is the only app where users can aggregate and track all of their airline, hotel, and credit card balances (as well as see points' net worth) in order to receive curated spending and booking tips to empower smarter spending and better travel. Specifically, travelers can monitor their spending habits, track progress towards personalized goals and sign-up bonuses, and receive recommendations. The end result? Maximized earning potential while traveling the world.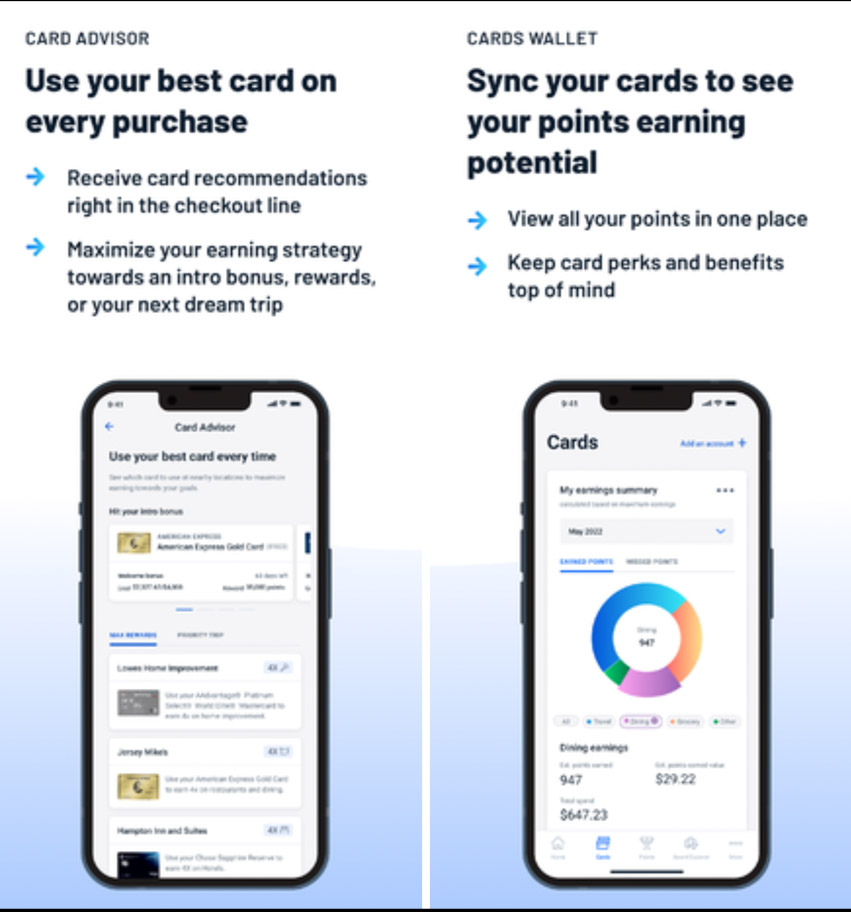 Key app features include:
Cards Wallet: Sync credit cards to learn how to maximize each one. The Card Advisor tool provides location-based, real-time recommendations on which cards to use before specific purchases to maximize points or reach trip goals faster.
Points Wallet: Add airline and hotel loyalty programs to see points, statuses, and benefits all in one place, as well as get alerts when points or miles are about to expire. Users also have access to their points' net worth – the estimated dollar amount assigned to points' value – based on The Points Guy's valuations of each reward program.
Award Explorer: Understand how many points and miles it would take to get to any destination and track progress towards saved trips.
Curated News Feed: Stay up-to-date with travel, airline, and credit card news from The Points Guy with a customizable, personalized news feed.
The Points Guy was originally launched in 2010 by founder Brian Kelly, and has maintained a popular web presence, reaching 11 million monthly unique visitors. The TPG App was just launched last year, and has already been recognized by Apple in the App Store as both an "Essential Travel App" and under the "New and Noteworthy" category.
Optimized with support from Foursquare
Foursquare's Pilgrim SDK provides partners with robust features and product support to enhance their business and user experience. Its proprietary Snap-to-Place technology has been trained by more than 15 billion signals over the past 12 years and enables precision at scale. This is especially suited for The Points Guy – the app will be able to prompt users to pay with a specific credit card in order to more easily maximize reward opportunities based on the retail location in which they are shopping in real-time.
"For The Points Guy mobile app, we needed a premium solution to support one of our most-requested features – Card Advisor – which recommends to users which credit card is best to maximize points depending on their current venue location," said Jordan Huffman, Engineering Manager at The Points Guy. "Foursquare is a clear leader in location data, technology and privacy standards, so it was a no-brainer to go with Pilgrim SDK."
In support of the Pilgrim product, Foursquare's team of in-house experts continuously collaborate with partners like The Points Guy to optimize user opt-in flow, craft effective consent and value exchange language, and maintain privacy-first practices.
Want to learn more about how Pilgrim SDK can help you drive your business forward? Reach out to us here.