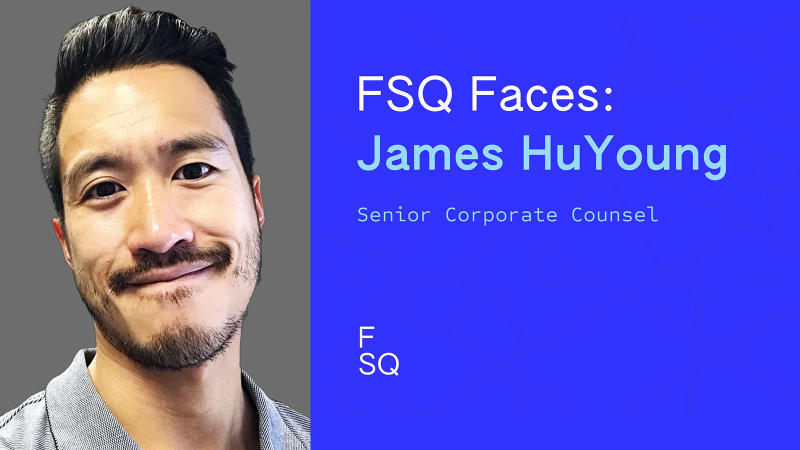 Get to know James HuYoung, Senior Corporate Counsel at Foursquare.
Can you tell us a little about your role and responsibilities at Foursquare?
I was recently promoted to lead our commercial legal team and to oversee all of Foursquare's commercial agreement negotiations with customers and vendors. I also partner with our head of privacy, Liz Hein, to provide legal counsel to Foursquare's products team.
How did you end up at Foursquare? What does your career journey look like?
Before joining Foursquare, I was a lawyer for CBS. I negotiated scripted series license agreements with third party studios that produced content for the CBS Television Network and also negotiated the license and production agreements for our marquee specials, such as the Grammys and Tonys, and for CBS Studios-produced content for streaming platforms, such as Netflix and Apple TV+. I also did quite a bit of production legal on unscripted series, such as Survivor and The Amazing Race. It was a good mix of things, but I had been doing that for nine years and was due for a change.
A little over a year ago, a recruiter reached out to me about an opportunity at Foursquare. I was familiar with Foursquare's consumer apps, but had no idea that the company had since made a big pivot into the B2B location intelligence space. That was really interesting to me, but given the growing concern around consumer privacy, I was initially wary of working for a company in this space and needed to do some due diligence. My research led me to some of the thought leadership from Marc Ellenbogen, Foursquare's general counsel, where he discussed Foursquare's privacy-first approach to unlocking value for both consumers and businesses while remaining hyperfocused on safeguarding and respecting consumer privacy and sensitive information. After speaking with both Marc and Liz (Hein) about their commitment to privacy and ethical data use at Foursquare, I was not only reassured, but excited to begin building with this team. I guess the rest is history!
Did you always know you wanted to work in technology?
Not really. I was open to pivoting to either a business affairs role within entertainment or into tech. Those were my two preferred "choose your own adventure" paths, and then Foursquare came knocking. Growing up, I'd always planned to become a doctor and straddled pre-med and political science all the way through college. But ever since deciding to attend law school instead of med school, my professional path has really been less about sticking to a plan and more about just learning and growing where I'm planted while remaining open to the more interesting opportunities that I've been fortunate to have come my way. Although life has certainly not always lined up with my expectations, I've always felt like I'm on the right path.
Since starting at Foursquare, how has your career grown or changed?
Jumping to Foursquare brought about huge change and growth for me professionally. Having to learn the ins and outs of location and ad tech and all our products was probably the biggest adjustment for me, after having spent so many years speaking the language of entertainment. For the first four months, I felt like I was drinking from the fire hose and my brain would hurt every day from having to absorb and apply all of this new information. Thankfully, everyone on the team was incredibly generous in helping me get up to speed. Now that I'm leading the commercial legal team, it's a bit of drinking from the fire hose all over again, but thankfully this time around I feel like I have a much better handle on things.
Since joining Foursquare, I've gotten closer to the business than I ever was before, which was the direction and change that I was really looking for. That's been really satisfying.
What sets Foursquare apart as an employer?
Foursquare really believes and invests in its people. We have a permanently "fully flexible" remote/in-office work policy – it's empowering to have an exec team that entrusts each of us to decide how and where we'll do our best work. Foursquare is also investing heavily in professional development and leadership training and coaching for both ICs and managers, which is an incredible resource that I haven't really experienced anywhere else.
Besides the many great perks, I've also experienced a consistently strong culture of mutual respect and collaboration across the company since my first day at Foursquare. This was my first time joining a company as a primarily remote employee, so I wasn't really sure what to expect in terms of feeling connected to a team, but I was relieved to find that the friendly and supportive culture at Foursquare is the secret sauce that makes all of the challenging work we do here a lot more enjoyable.
Why is diversity, inclusion and equity (DE&I) important to you, and how do you think Foursquare's culture embodies these values?
Championing diversity across all measures and spectrums couldn't be more important. At Foursquare, I have always felt supported and encouraged to "bring my whole self to work." As one of the few Asian American kids growing up in my Midwestern hometown, I experienced a fair share of both casual and overt racism and often felt like I didn't belong, so I don't take the respect and acceptance I receive from my colleagues for granted. I also came out as gay – first to myself – and then to my wife, Sarah, and both of our families about 8 years ago. After a lot of love and determination, Sarah and I are closer than ever before by being more authentically ourselves, and I feel so unbelievably lucky that we have been able to create and nurture this amazing, love-filled, close-knit modern family unit – complete with our amazing kids, a dog, a fish and significant others.
At Foursquare, I feel valued for my contributions and am able to do my best work without the added baggage of feeling judged, held back or excluded for who I am or who I may love. Foursquare's culture is so affirming of the individual and actively avoids the kind of exhausting toxic team culture where everyone feels pressured to have the same interests or dress, act or speak a certain way in order to succeed, which can so easily infect a workplace if unchecked. Conformity also stifles creativity, growth and innovation. There's so much value in our differences, and everyone at Foursquare has a responsibility for ensuring we maintain a culture that embraces diversity and prioritizes making continual strides in our DE&I efforts. I would definitely encourage diverse candidates to consider a career at a smaller high-growth company like Foursquare – you'll really have a chance to make your mark here.
What do you see as the greatest challenges facing businesses today? What role can Foursquare play in addressing those challenges?
With current recession concerns and companies adopting a more prudent budget position, I think it's more crucial than ever that dollars be allocated in a very targeted, results-focused manner. Foursquare offers businesses that ROI by offering a full suite of location intelligence products that allow them to make smarter investments and drive better outcomes. Businesses that can leverage location intelligence to better understand their current and prospective customers and to gain valuable insight into real-time market shifts will be best positioned to exploit opportunities as they arise and avoid getting left behind.
What's the best advice you've ever received?
It's a quote attributed to Oscar Wilde. "Be yourself; everyone else is already taken."
When employees join Foursquare, they're always asked to share a fun fact. What would your fun fact be?
I love escape rooms and I've never not escaped from one on time. Knock on wood.
What do you like to do in your spare time?
My spare time is pretty limited these days, so I mostly prefer to spend that time hanging out with my kids. They're growing up so fast and are a lot of fun, and we all share the same sense of humor and crack each other up (or they roll their eyes at me while I see them trying not to laugh, haha). We play games, go for bike rides, play catch, or just hang around and talk about their days. My son starts middle school this fall, so we just took our first father-son trip to San Diego – I accidentally missed a turn on what was supposed to be a 6-mile bike ride around Coronado Island and added an extra nine miles down the Silver Strand to our ride, but it was beautiful and we had a blast.
What local hidden gem would you recommend to people?
So many great places in LA, but I love driving out to the San Gabriel Valley because it's like a little slice of Asia. There is an entire Asian food court at the Westfield Santa Anita Mall in Arcadia that has some tasty and authentic Chinese, Taiwanese, and other Asian fare. Porto's Cuban Bakery is also amazing. My dad grew up in Cuba, so I always have to take my folks to Porto's when they visit.