Here at Foursquare, diversity and inclusion is an integral part of our corporate culture that we're always looking for ways to amplify. Inventing the future of location technology also means taking the time to understand how different individuals interact with the physical world.
In an effort to facilitate impactful conversations around women in tech, last month Foursquare partnered with Union Square Ventures to host our first-ever "Femgineering" Lunch — which was the inaugural event at our brand new Flatiron headquarters. The guest list grew to over 100 attendees from nearly 70 different companies across the industry. We were also glad to have our executive team and senior management in attendance to show their support.
Our discussion was led by Shani Offen, a talented Machine Learning Chapter Lead at Spotify. Natalie Weyerhaeuser, a Technical Lead who has worked on our Places by Foursquare team, joined her on stage and narrated the thought-provoking conversation. (Note: Natalie has since left Foursquare to be the first non-founder engineer at Marissa Mayer's Lumi Labs. We wish Natalie much success!)
As Natalie posed questions, Shani provided answers rooted in her personal experience. With over 20 years of professional and academic experience in the fields of Computer Science and Neuroscience, she is also one of the first women to join her current team at Spotify. Shani has a depth of knowledge not only about her craft, but also the nuances of being a woman in tech.
The discussion covered recruiting, retaining, and championing women in the workforce. Shani maintained that recruiting is a critical factor in creating an inclusive team — and sharing visibility into female-driven accomplishments can make a huge difference.
In terms of retention, Shani feels the work environment also plays a key role, expressing, "the best way to retain [female working professionals in tech] is to make sure the workplace is professional." She continued, "I've found that making it clear that people need to behave professionally, and being clear and explicit about what that means, makes a big difference."
In addition, Shani urged the tech industry to move past thinking about diversity just in terms of gender, rather, opening it up to all groups of individuals. "Protecting anyone is critical for protecting everyone," she conveyed. "It's not just about women. It's about any underrepresented or stigmatized group. That's why diversity has to be more than just gender diversity."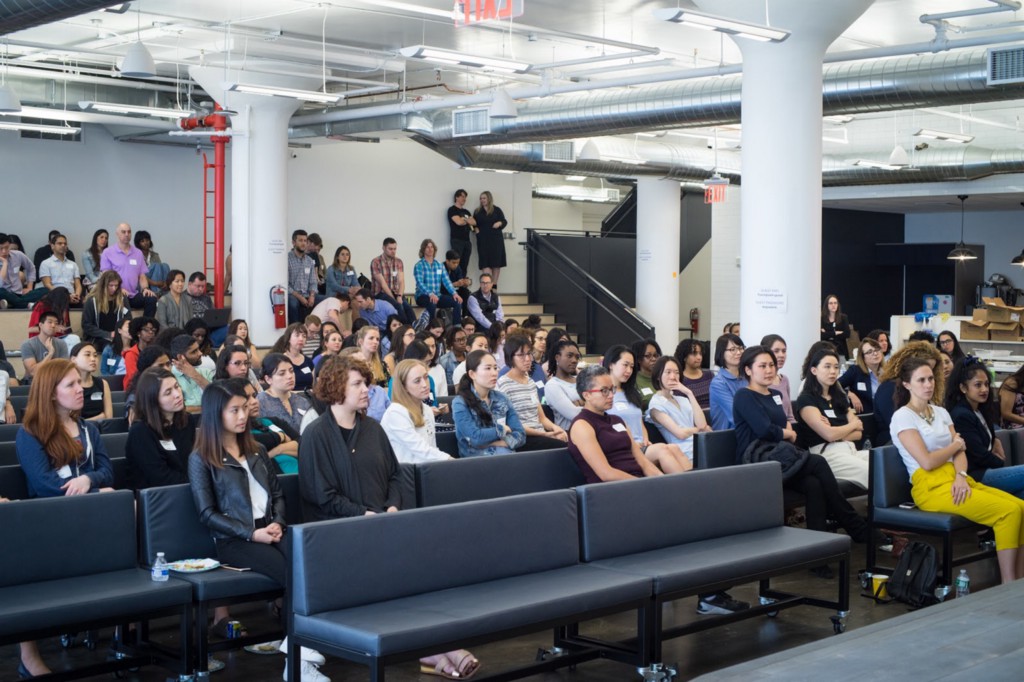 Participants listen intently to the dialogue
In addition to discussing gender equality, Shani and Natalie also dove into engineering-focused topics such as machine learning and the future of audio. Shani outlined her vision for an internet where people will begin to engage with other senses besides sight. She believes that this will open up a whole new world of possibilities of things one can do on the web, but before we can move into that vision of the world, someone needs to solve the problem of monetizing audio — and solve it well.
It was inspiring to hear, not only about the cutting-edge projects that motivate someone as accomplished as Shani, but also about the challenges she has overcome throughout her career. We can all stand to learn from the stories of others.
Foursquare is committed to planning more events focused on boosting underrepresented groups in tech. Last month, we hosted a Pride Month event with Out in Tech. We're excited to keep the initiative going throughout the rest of the year with various organizations. You can find us at these upcoming conferences in the fall: Out for Undergrad, Lesbians Who Tech, and Grace Hopper.
Photos: Felix Puetsch
For more information about our engineering efforts, follow Foursquare Engineering on Medium, and stay updated on our job openings.