Foursquare is proud to launch its new Census Block ID feature. This latest update will allow users to get a more granular understanding of an area's demographics surrounding a point of interest, enabling them to perform greater business analysis and make more impactful decisions.
More details, more results
Before Census Block ID, a zip code was typically appended to a POI. The appended zip code was able to give businesses insights into the demographics within that zip code but fell short of market requirements because it was often too broad of an area to be actionable for specific use cases.
With Census Block ID, Foursquare will still provide the same POI data but at a more detailed level.
Instead of relying on zip codes for demographic data, Census Block ID uses a Census Block Group (CBG) – a geographical unit used by the US Census Bureau. A CBG is more granular than a Census Tract, which is made up of multiple CBGs, and larger than a Census Block, which are smaller units that get grouped into CBGs. Each CBG has a 12-digit unique identifier containing anywhere from 600 to 3,000 people. CBGs also change every 10 years after each new census.
Users will now be able to add the CBG attribute as an additional layer of data to Foursquare's current POI offering and experience exponentially more insights into a particular POI's demographics. This can include improvements in site selection, competitive analysis, data enrichment and more.
Census Block ID in action
Census Block ID will enable users to effectively and accurately answer the questions essential to their business' success by utilizing both POI data and detailed demographic data in unison. It offers a closer look at performance-based questions surrounding things like education, age, gender, and ethnicity – all critical influences and factors that should be accounted for when making business decisions. Census Block ID goes one step further and makes these discoveries and analyses as seamless as possible.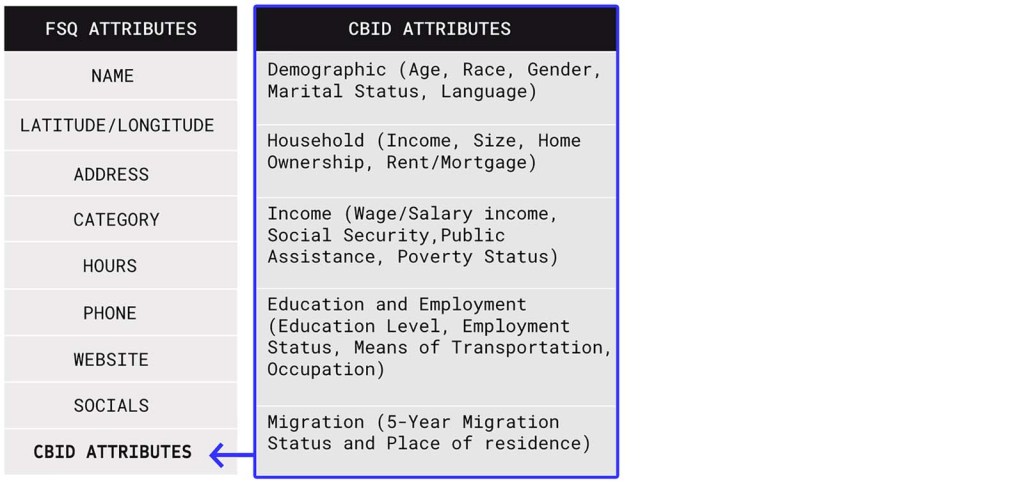 It's also an especially powerful tool for QSR, retail and real estate businesses. Some key use cases include:
Consumer Insights: Clients want to be able to build out demographic profiles of their visitors using publicly available data. Using CBGs, they can then append census data to analyze the population's demographics (HH income, ethnicity, age, gender, and more).

Robust, accurate, in-house consumer data is vital to the success of a business. With access to CBGs, you now have even more visibility into the demographics surrounding a POI, allowing you to build more holistic customer profiles and customer segments to support targeting efforts. You're then able to turn these insights into action by developing strategies to capitalize on what works (or doesn't!) in order to appeal to the right audience and increase customer share.

Site Selection (trade area analysis): Clients want to understand whether investing in a new store will cannibalize their current locations or compete too heavily with other providers.

When analyzing locations for a new venue, nearby businesses and demographics are important factors to consider. Foursquare Places already enables a deep understanding of POIs and now, with CBGs, your region of understanding broadens. There is a layer of additional census data such as age, gender and marital status that users now have access to.

Real Estate: Real estate firms want to stay ahead of changing neighborhood trends and understand how those trends affect their property's value.

Insight into neighborhoods is an invaluable investment advantage. With access to CBG data through Foursquare, you can develop an understanding of location-specific demographics in a way that is accurate and actionable. For example, you'd be able to understand what locations are trending based on the number of Starbucks or EV charging stations.
Integrating with Unfolded

Unlocking meaningful insights from Places data can be even easier using Unfolded, Foursquare's geospatial visualization and analytics platform that can join large-scale spatial data of all shapes and sizes. A true match made in geospatial heaven, users can upload POI data inclusive of the Census Block ID attribute directly into Unfolded for immediate visualization and custom filtering based on their preferred parameters.
The combined usage of Unfolded and Places – now enhanced with the addition of Census Block ID – means accessing and understanding data insights are easier than ever before. Here at Foursquare, we strive to continually innovate and ensure our tech stack is meeting current business needs, even as those change. Census Block ID is one of many examples of how we're thinking ahead and helping businesses unlock new potential.
Learn more about Foursquare Places and contact us to request a demo today.