A truly privacy-first future is just around the corner. In recent years, the technology industry (which really spans ALL other industries) has moved to better prioritize consumers' privacy. Much of this shift has been sparked by external pressures, such as regulation. Other times, the catalyst has come from within the industry – such as efforts to improve consent practices for location access.
The momentum around privacy-first policies – both within companies and at a government level – and business practices is only growing, and the rest of 2021 will prove to be a formative time for the entire data ecosystem. This means that app developers, product managers, marketers, and virtually any other professional who uses any form of data (location or otherwise) need to stay on top of any movements within the data privacy landscape.
Read on to learn what to keep an eye on in the 2021 privacy landscape.
3 factors that will have a significant impact on the location data privacy landscape throughout 2021:
1. THE ROLLOUT OF iOS 14 / iOS 14.5
The release of iOS 14 caused a stir within the app developer community – and amongst the advertisers and brands who rely on certain consumer insights that come from data sharing. Now, after months of anticipation, the launch of iOS 14.5 – the version of iOS 14 that will require apps to display the App Tracking Transparency (ATT) prompt and obtain user permission to link their data with data collected from other apps and sites – is here, and it will be a crucial test for developers and advertisers alike.
While some have speculated that iOS 14/14.5 will have significant effects on developers' ability to provide the best in-app experience as well as advertisers' ability to deliver relevant content via ad-supported business models, this does not have to be the case.
Our recent conversations with developers, analytics providers, and ad networks indicate that ATT consent rates may be higher than expected – even as high as 40% opt-in. We know that consumers value ad-supported content, so this is not surprising. But developers should not take these early indications for granted.
Developers can boost their "opt-in" rates by taking care to craft a primer message that will appear before the ATT prompt. This primer message should directly convey to users WHY the app needs their data and what VALUE the users will derive from opting-in to data sharing. For example, if you need a user to share their data so that you can provide the app at no cost to the user, say so.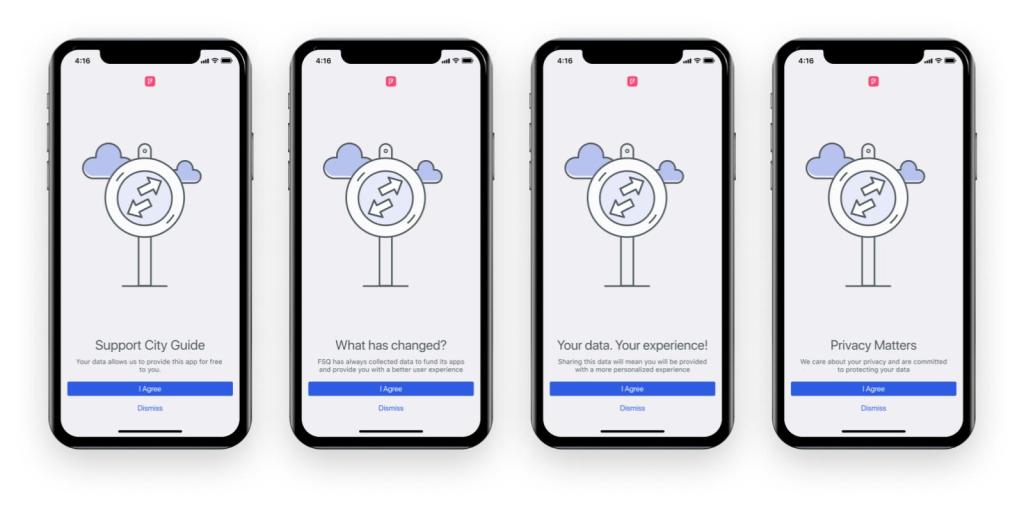 Foursquare conducted several experiments that tested how users responded to the new location permissions as well as the Apple AppTrackingTransparency framework (ATT). Learn what we discovered here.
2. THE MOVEMENT TO GO MAID-LESS & COOKIE-LESS
In addition to growing restrictions on the use of an Apple Identifier Device For Advertisers (IDFA), there is also growing momentum toward a MAID-less and cookie-less future.
This movement is aimed at protecting consumers from inappropriate profiling and use of their personal information. While there are undeniably bad actors out there, the ad industry as a whole must also take some responsibility for such fears, as many companies fail to transparently describe the value exchange to users (i.e. "We need your data in order to provide this service for free, and we're taking XYZ steps to protect your personal information).
The world is moving away from IDs like MAIDs and cookies that operated on an opt-out basis, and toward consented, authenticated relationships with consumers. Just as Foursquare has long done with the collection of consented location data, communicating the value exchange with consumers around data sharing is paramount for navigating this period.
The near-term identity landscape will also look more complex. In the not-so-distant future, marketers will need to work with multiple types of identifiers, and each company will need to find the solution that works best while continuing to understand how this market is going to evolve throughout the rest of 2021. Leading identity solutions include the Unified ID 2.0 initiative and LiveRamp's ATS/IDL solution, and Foursquare is embracing both.
To navigate this period, marketers will need to adopt an ID-agnostic approach and stay nimble as they experiment with several different forms of IDs. But longer-term, they should explore cohort-based approaches, which allows for insights from a broader group of users based on characteristics of the group rather than one-to-one matches. Foursquare is in the midst of intensive research and development around cohort-based approaches to both reaching consumers and measuring ad effectiveness – because we know this will be a key pillar of the next decade of marketing.
3. PRIVACY REGULATIONS
In recent years, there have been several important legislative efforts aimed at tackling the complicated data privacy issue – including GDPR (the EU), CCPA/CPRA (California), and (most recently) VCDPA (Virginia). Within the U.S., legislation continues to be debated at both a state and federal level.
Yet, a patchwork of state legislation, while well-intentioned, could actually undermine consumers' trust in the tech industry because their rights will differ across state lines, leading to complexity and confusion. This complexity will be damaging to businesses as well – as compliance costs go up, new entrants face higher barriers to enter markets, and innovation will be dampened.
Comprehensive federal privacy legislation, on the other hand, is certainly a good thing because it will establish one set of rules to stop the inappropriate use of data, while giving clarity to consumers and businesses alike.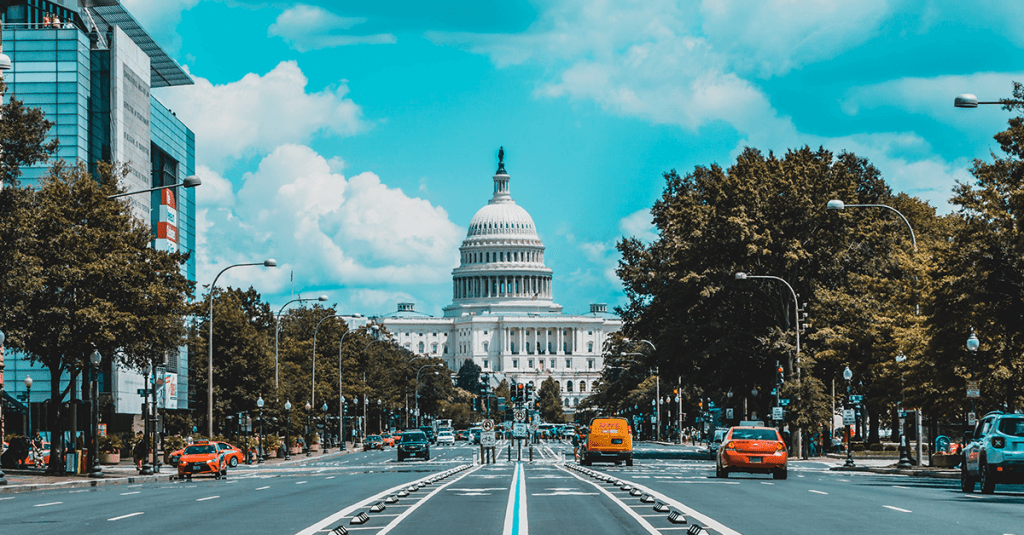 Naturally, enterprises, advertisers, brands, and developers will all be impacted by such legislation, and therefore must stay keenly aware of any movement – especially at a federal level. Here's what to keep an eye on, as these will signal that a federal bill could be getting closer to passing:
An uptick in hearings by the Senate Commerce and Judiciary Committees, or the House Energy & Commerce Committee, in which they debate proposed legislation
Commentary by FTC Commissioners on proposed legislation, including on how the legislation plans to tackle rulemaking and enforcement
Movement by the Biden Administration to support a Democratic effort to pass a bill
In advance of federal legislation – and as states continue to consider new privacy bills – companies across the data and tech ecosystem need to continue to do the work to develop "self regulatory" best practices.
Of course, it can be hard to know where to start. Thankfully, organizations exist to help companies navigate the tricky waters around privacy– including the Digital Advertising Alliance (DAA), which issues self-regulatory principles designed to help companies provide consumers with enhanced transparency and control. Similarly, the Network Advertising Initiative (NAI) is a non-profit committed to responsible data collection and usage in digital advertising and works with leaders within the industry to create policies and best practices. While our membership in the NAI means we have to go through an intensive annual review with their compliance team, we know it is well worth the investment.
Becoming a Privacy-First Organization
A privacy-first future isn't just good for consumers – it's good for businesses. Consumer trust is a necessity, and companies who become leaders in privacy-first best practices will differentiate themselves in the market and become the drivers of innovation.
Building and preserving trust with our consumers is something we take very seriously at Foursquare. The data that Foursquare collects from consumers powers our location platform, and we take extensive steps to ensure that consumers are protected from sensitive or inappropriate use cases before data is shared with partners via analytics, audiences, data solutions, measurement, and developer tools.
We have a robust policy framework in place to regulate our products. For example, we deploy a minimum size threshold for Audiences – which helps protect consumers from too-narrowly crafted segments. We also do not segment or persistently identify users on the basis of inferences about certain characteristics such as sensitive health conditions, religion, sexual preference, immigration status, or status as active-duty military personnel. Our policies also include steps that protect home location, prevent sharing of raw location data, and more. We hope these policies can help guide future privacy law and regulation, and frequently share best practices with the DAA and NAI to help other companies better their own approaches to privacy-by-design.
Of course, one of the most important steps any company can take toward becoming a privacy-first organization is to stay nimble – companies must be prepared to adapt fast to new legislation, changing consumer behaviors and expectations, and any other factors that come into play. After all, the privacy landscape is ever-evolving.
Interested in learning more about building privacy-first products or about Foursquare's vision for privacy moving forward? Contact us using the form below.