Finding the balance between project work and servicing ad-hoc stakeholder requests in a timely manner is a difficult challenge for many organizations. The repercussions of it being done incorrectly can cause detrimental effects such as burn-out, increased attrition and slow innovation in the organization. However when it's done correctly, a team will feel the value they provide daily, from increasing engagement to meeting the needs of stakeholders.
So, how can we create opportunities for focus and balance in a service-oriented team with an inherent need for context-switching and responsiveness? While there isn't one solution that works for every team at every point in time, leaders can build a high-performing team by listening and experimenting with their people and process.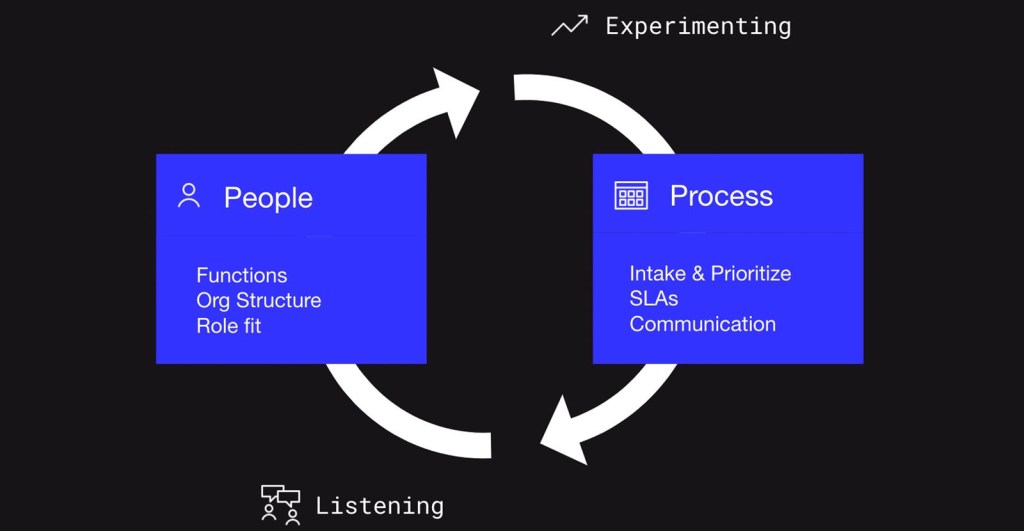 People
The people you hire are the foundation of a strong team. Prioritizing work, managing expectations and communications with stakeholders are all important, but only if you have the right people organized in a way that enables you to create the responsiveness and predictability that helps your team and customers.
How To Structure A Team
First, identify the distinct functions or roles within the team. Do this by identifying clusters of responsibilities and skill, and comparing that to the volumes of requests, urgency and needs of the stakeholders, as well as the level of complexity and change in the products.
From this analysis, patterns will begin to emerge, in which there may be a misalignment between what structure and roles are needed as well as the people and skills within the team. This analysis helps bubble up different archetypes and think about where more people might be needed. If the size of the team grows beyond that which you can manage yourself, it presents a potential to create sub-teams. In many cases, this fragmentation will naturally occur.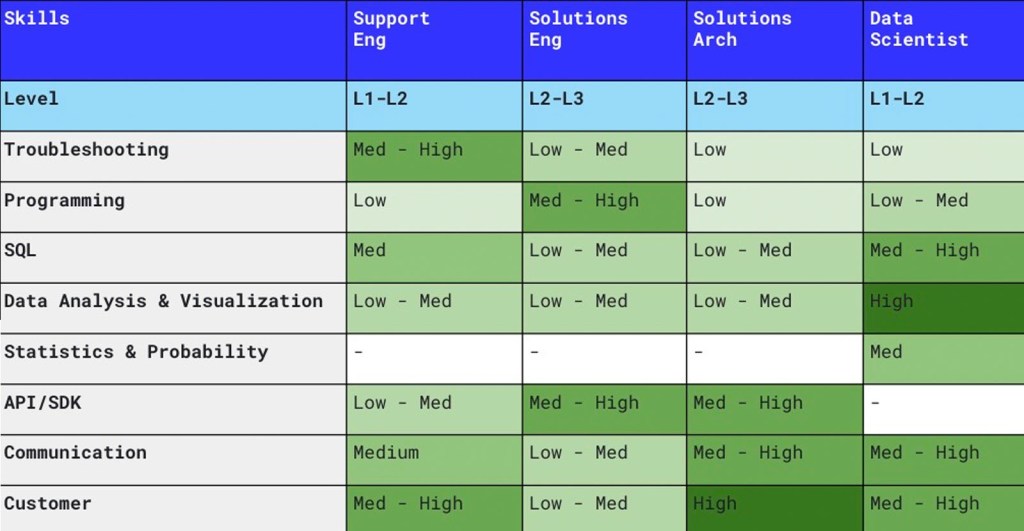 For example, a Support Engineering role involves troubleshooting but requires a deep understanding of the customer, separate from a Solutions Engineering role who puts together proof of concepts and builds custom solutions. By defining and distinguishing roles, one could see how work streams could be set up to reduce competing demands on a single individual.
The next step is to figure out the structure that would optimize the team, support career growth, create alignment and optimize business needs. It is critical to create lines of separation based on the ad-hoc vs. planned work to reduce pressure on a team being pulled in different directions. If the separation of the team does not make sense for you, create a similar separation through on-call rotations for support. This structure works well to meet business needs for responsiveness while providing structure for project work and predictability for stakeholders and the team.
How To Hire
To build an interrupt-driven team, it is crucial to hire engineers who are motivated by helping others, care about stakeholders' problems, speak their language and understand their needs. Without these characteristics, a team will get escalations regularly, which takes out focus from other areas. Therefore, it is important to hire people who are motivated to help, understand customers, and are curious to learn.
Process
Now that you have your people and an organizational structure, how do you set your team up for success and support customers?
Intake & Prioritization
When there are a high volume of requests, a ticketing system such as Jira or Asana is necessary for efficiency and organization. Within these systems, set up a service desk and tailor intakes based on common request types. Additionally, a triage meeting can be used to classify new tickets, review stale tickets and discuss any common issues or escalations – but more importantly to agree on top priorities. For instance, when the volume of support is higher than current staffing, this is an optimal approach to create alignment and visibility. When it is not needed, those products have moved to intake throughout the day asynchronously.
Develop intake or "triage" processes that enable the team to focus and be productive in the areas that best support your stakeholders. For example, segmenting requests into queues based on customer tiers, type, urgency or complexity of request. This can enable the team to use time blocks to focus on common requests or enable resourcing based on the assigned queue.
Service Level Agreements (SLAs)
Work with your team and stakeholders to come up with achievable turnaround times for requests that meet business needs. At times, it entails advocating for the team and setting boundaries to SLAs that are achievable for the team while also working to figure out the investments needed for more aggressive SLAs to be within reach. SLAs may include the reasonable times to acknowledge new requests, provide updates and what hours of coverage the team can provide. As the ticketing system evolves, requests can be grouped based on information needed and urgency. The usage of a tool like Jira Service Desk enables teams to configure SLAs with an understanding on how long tickets take to complete, which helps team members know where to ask questions and dig into friction points.
Commitment to Continuous Improvement
Business needs, team and stakeholders are always changing and evolving. In this phase of building an interrupt-driven team, it is time to watch and listen by talking to people and check-in with stakeholders to find out what is working in the new process and structure, and where there are still pain points.
If compromises were made on areas that stakeholders initially did not agree with – make sure they feel heard by acting on their feedback. Feedbacks can be from the team or a stakeholder, and it is imperative to communicate how these are incorporated into the process and structure of the team. Use these feedback to come up with quarterly goals and focus areas for the team. At this point, working with the team is important to accomplish what can be resolved quickly, where experimentation is required and where big changes are needed.
In summary, building an interrupt-driven team is no easy feat. Despite its toughness, finding the balance between project work and servicing ad-hoc stakeholder requests in a timely manner is beneficial in the long run to increase engagement and meet the needs of stakeholders – keeping the business competitive.
Interested in learning more? Listen to Foursquare's Director of Client Solutions Engineering, Mariena Quintanilla, speak more about this topic at DeveloperWeek Global Management here.