When we first introduced Attribution by Foursquare two years ago, our goal was to enable industry-leading advertisers, publishers and platforms to understand how digital ads were driving foot traffic to real world locations. With more than 90% of consumer spending happening in the real world, the need for this type of insight in the market was clear.
But as with any technology, innovation is never done.
Today, we're proud to debut our latest advancement which offers clients an even more sophisticated understanding of how over 500 distinct consumer factors and attributes contribute to a store visit. Plus, we are announcing new partnerships and brands that have come on board and a redesigned client interface, all of which has happened alongside us growing our always-on panel by 10x.
First things first, let's talk tech.
A measurement platform is only as good as the logic and math behind it, and our new methodology leverages cutting edge machine learning techniques to measure the true impact of an ad in a new and deeply sophisticated way. It's a high-dimensional model — and it's an upgrade that is more impactful than you might assume.
Here's how it works: instead of just comparing people that were or weren't exposed to a given ad based on four simple factors (age, gender, DMA and recency), we are now able to incorporate more than 500 different attributes into the equation to understand if it was truly the ad that drove them into that sandwich shop, big box store or movie theater, or the fact that they might have wound up there anyway. Our machine learning methodology allows us to factor in everything from historical visits, time of year, day of the week, distance from store, what apps and platforms a person uses, and so much more, in order to determine what truly drove visit lift. Only Foursquare takes so many predictors in account, empowering marketers to understand performance drivers and identify optimization opportunities throughout their campaign.
As a result, marketers can now get precise measurement of incrementality and have an accurate understanding of how ads are influencing foot traffic in granular ways. In a complicated media mix environment, these insights are crucial and Foursquare is uniquely positioned to do this thanks to our rich first party data and growing, always-on foot traffic panel of 25 million people globally.
Spotify names Attribution by Foursquare as location measurement partner
Advertising platforms, like Spotify, use Attribution by Foursquare as one way to prove their value to brand marketers. As Spotify's new location measurement partner, Attribution by Foursquare will be measuring offline attribution for ads running across all devices, including mobile app, desktop app, tablet, web, and connected devices (gaming consoles, connected TVs, and connected cars). Anywhere that Spotify delivers ads across all formats (audio, video, display, and sponsorship), Attribution by Foursquare will be able to measure real world results.
"We are excited to add Foursquare to our roster of measurement capabilities and show the power of our unique streaming intelligence to impact real-world behavior," said Brian Berner, Head of U.S. Sales at Spotify. "Advertisers will now be able to understand how their full advertising strategy on Spotify drives an increase in foot traffic to brick-and-mortar locations. Foursquare is a natural partner to make this possible."
Who's on board?
Our Attribution business has been on a tear (with triple-digit year-over-year revenue growth since launch) and the excitement around this innovation is no different: Beta partners already testing the new methodology include TGI Friday's and Panera.
Sherif Mityas, Chief Experience Officer for TGI Friday's said, "This is an important enhancement to our capabilities and our ability to personalize our guest engagement efforts more effectively. At TGI Fridays, we love being first with new innovations and our great partnership with Foursquare continues to allow us to lead the industry in delivering differentiated experiences."
Carol Wolowic, Senior Manager, Media at Panera Bread added, "Panera is constantly pushing our own digital media measurement evolution as both the industry and our consumers move forward. Foursquare is a key measurement partner for us, as they help us connect our advertising to real world behavior."
Last but not least, our new look.
Foursquare might be all about innovative location tech, but we also pride ourselves on creativity. From designing client campaigns rooted in location with our newly minted in-house studio Sixteen, to our unique location visualizations, we know that data, utility and visuals all go hand-in-hand.
To that end, we have launched a brand-new Attribution dashboard with features designed to increase utility and gives clients better access to results. Features include a cumulative view of campaign performance, geographical heat maps and the ability to easily export all charts, images and reports. Updated daily, the dashboard gives marketers ongoing visibility into campaign performance, revealing unique insights around audience behaviors, market share shifts and much more.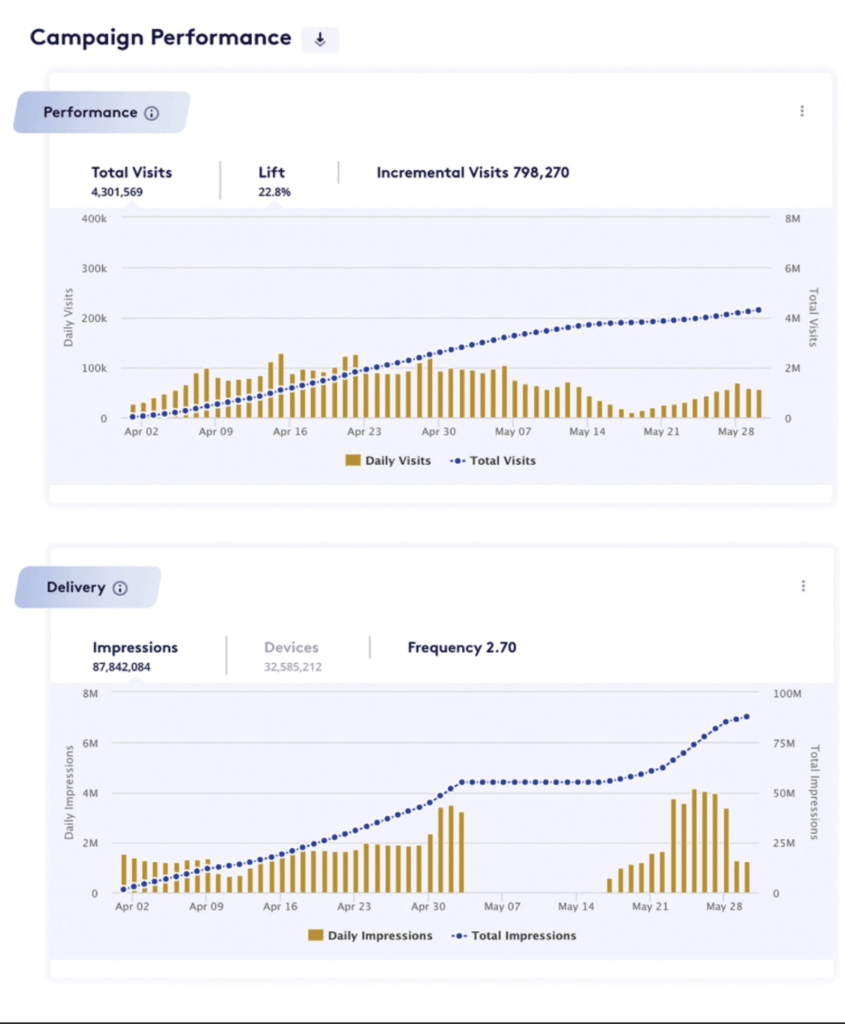 But as I said earlier, the innovation is never done. We're continuing to grow our 25 million person panel, looking for more attributes to teach our machine learning model and are working alongside marketers to take location-based measurement to the next level.
Want to bring more precision, more optimization and more campaigns to consumers? Email us at ads@foursquare.com.