Much has been said about the retail industry: that department stores are dead, that discount stores are on the rise, that in-store technologies are the answer. Everyone agrees, however, in order to keep pace, loyalty matters more than ever.
Despite innovation in digital retail experiences, more than 90 percent of consumer spending still takes place in the brick-and-mortar world, according to US census data. At Foursquare, our deep understanding of where people go in the real world gives us the unique ability to analyze retail trends based on the U.S. consumers who make up our growing, always-on foot traffic panel. Our Loyalty Index provides the most accurate assessment of customer loyalty, distilling a complex set of behaviors and preferences into one single metric that can be compared across chains.
To measure customer loyalty, Foursquare analyzes four key metric and identifies the brands that foster the most dedicated fanbase:
Frequency: The average visit per customer to each brand on an annual basis.
Penetration: The percentage of category visitors who frequented a specific brand within a year. Penetration was measured solely for regions in which a given chain exists (i.e. West Coast regional retailers were not penalized for not having locations in the Northeast).
Share of Wallet: The percentage of a customer's total retail visits that's allocated to a specific brand. For example, if a consumer visits a department store five times per year, what percentage of that total is spent at Nordstrom, Macy's, etc.
Fanaticism Threshold: The number of visits within a year required for a customer to be considered within the top 1 percent of those who visit a particular brand. These customers aren't simply loyal, they're fanatical.
Without further ado, here is this year's top clothing and accessories stores with the most devoted shoppers: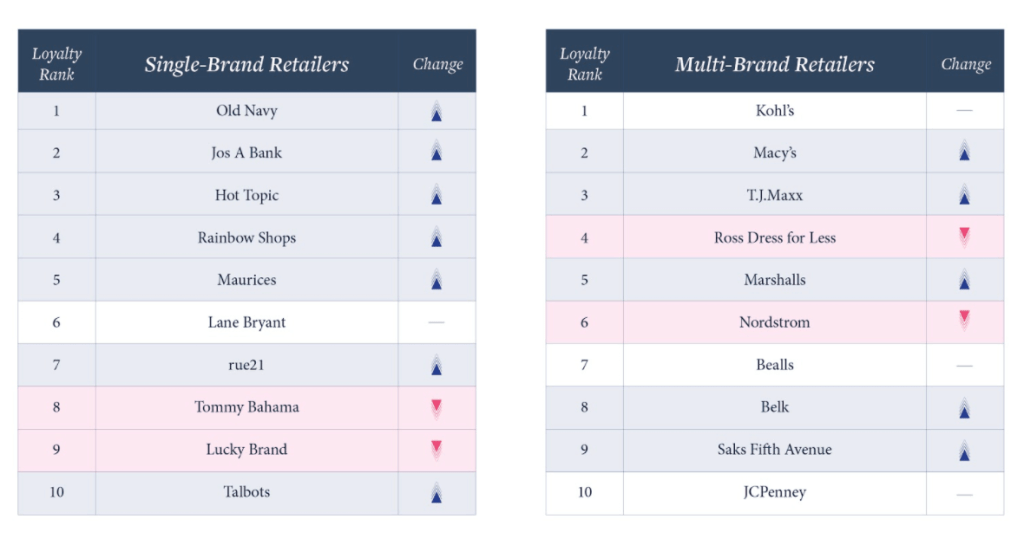 According to our data, here are the top factors that keep customers coming back, time and time again:
The thrill of the hunt – Off-price retailers such as T.J.Maxx and Marshalls where customers sift through racks of clothing to find that perfect item or hidden treasure are extremely successful at generating real-world customer loyalty.
Customer-centricity – Retail brands with a relentless focus on superior customer service like Nordstrom see the fruits of their labor rewarded in the form of strong customer loyalty.
Apps that keep them coming back – Retailers investing in apps, such as Old Navy and Kohl's,are using mobile technology to compliment the in-store experience, pushing them to the top of the loyalty index.
Knowing your audience/doubling down on core customers – Niche brands with lower penetration can still rank well in terms of customer loyalty due to strong fanaticism and visit frequency, such as resort-wear brand Tommy Bahama and Lane Bryant
Interested in seeing how brands like Sears and Payless fared? Want to learn more? Download our Fashion Loyalty Index report to see the complete rankings, best practices based on the winners and movers, and strategies for what marketers can do to increase consumer loyalty. For more in-depth insights on your brand's customer loyalty, as well as competitive intelligence, email us at hi@foursquare.com today.
[Legal]
Editor's Note: Foursquare analyzes foot traffic patterns from millions of Americans that make up our always-on panel. Foursquare measures 3+ billion place confirmations per month globally. All data is either anonymized, pseudonymized or aggregated, and is normalized against U.S. Census data to remove age, gender and geographical bias. For this year's index, we looked at data from 2017-20178, considering department stores, clothing stores, men's stores, women's stores, shoe stores and accessories stores with over 100 venues in the United States.