For retailers across the United States, the coronavirus pandemic has been a gamechanger. Indeed, as people and states do their part to stem the spread of the virus by changing their shopping habits, this is a holiday shopping season like no other. But there is a secret weapon that can help retailers better understand shifting consumer behaviors (including visitation patterns) and create seamless, omnichannel experiences: data.
Combined with visualization powers of Tableau, Foursquare's location data can provide retailers with granular insights on the latest consumer behavioral trends. These insights can then be used to help retailers and marketers craft a more effective strategy for the 2020 holiday season strategy – and beyond.
Four ways location data can improve retailers' holiday strategies:
Determining operating hours, staffing, and inventory: Location-based insights can make operations-based decisions much simpler – from deciding when to open stores in different regions on Black Friday, to scheduling the right number of employees on other peak shopping days like Super Saturday, and to picking where to invest in curbside pickup for buy-online-pickup-in-store.
Deploying targeted advertising: Location data can help marketers identify the consumers who are out and about shopping in the physical world (versus those staying at home) and deliver relevant messaging based on consumers' mindsets.
Build richer customer profiles: To gain a deeper understanding of their holiday shoppers, retailers can combine in-store visitation data with online shopping data to enrich customer profiles.
Measure advertising impact: Retailers can measure how effective advertising is on in-store foot traffic during the holiday season by tracking the number of consumers who visited a store after viewing an ad online (this is done via our Attribution platform).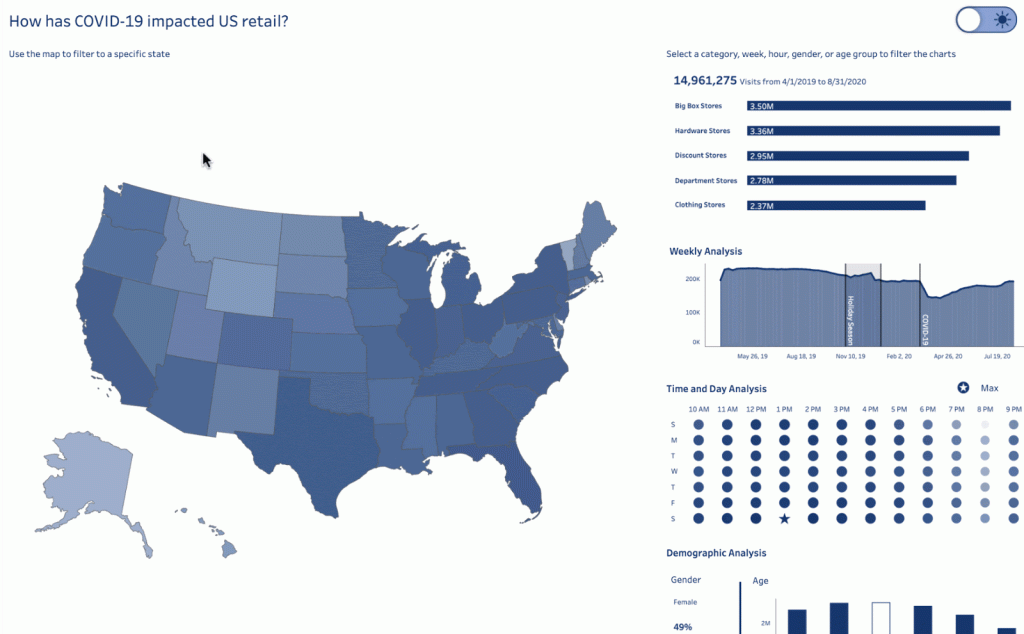 Taking a deeper dive into three of the top retail trends:
Sporting goods stores, outdoor supply stores are drawing in in-store visitors: Our data shows strong visitation to retail categories that help people enjoy the great outdoors, including sporting goods stores and outdoor supply stores. This is likely because consumers prefer to pick out and assess these types of supplies in-person rather than take the chance by ordering online.
Shoppers are skirting crowds by shopping midday and during the week: While shoppers traditionally preferred to browse stores on the weekend, our data shows that consumers are aiming to avoid the crowds by coming in during the workday.
Millennials are shopping in-store more than older consumers: Whether younger people are more risk-tolerant or simply craving interaction with the outside world, it's clear that millennials are more open to shopping in-person than older generations. Interestingly, our data shows that men are more likely to shop in-store than women, who (along with Gen-Z and Baby Boomers) appear to be shopping online instead.
We're well into the 2020 holiday retail season, but there's still time for retailers to capitalize on the insights and trends gleaned from location technology. Reach out to hello@foursquare.com to learn more!