Retailers are in the midst of the busiest shopping season of the year, and all bets are on the table as they eye an $11 billion opportunity following the demise of one of retail's longest standing players, Toys"R"Us. With 739 store closures nationwide and 60% of their total revenue generated across the U.S., the question on everybody's minds is: where are Toys"R"Us shoppers going this holiday season?
Big box retailers like Target and Walmart have been vocal about wanting to capture Toys"R"Us' market share. Not to mention Amazon's bullishness for digital domination. But still, 90% of consumer spending takes place in the real world according to the U.S. Census, and in 2017, 86% of Toys"R"Us' revenue came from in-store shopping. This means there's potentially more than $9 billion for the taking in real world shopping.
Looking at our foot traffic panel of 10 million US consumers who have agreed to share persistent location, we isolated shoppers who went to Toys"R"Us in the U.S. in Q3 2017 (before Toys"R"Us closures) and compared their foot traffic patterns against Q3 2018 (after Toys"R"Us closures), to examine the market share shifts that took place for key consumer segments after the toy chain shuttered its doors.
Here's how we did it:
We separated Toys"R"Us shoppers into two segments that showed very different shopping behaviors:
Loyalist shoppers: Shoppers who visited a Toys"R"Us location at least three times in 2017.
One-time shoppers: Shoppers who only visited a Toys"R"Us store once in 2017.
In 2017, 28% of Toys"R"Us shoppers fell within the loyalist shopper category. 42% classified as one-time shoppers, and the remaining 30% fell somewhere in between.
We looked at the visit patterns of the two distinct shopping segments before and after Toys"R"Us closed to analyze how the foot traffic distribution changes, while also correcting for shifts in the retail segment overall. A note on methodology: Foursquare data was pseudonymized, analyzed in the aggregate, and normalized against U.S. census data to remove any age, gender or geographical bias. To collect data, we require user consent within our own apps and partner apps.
What we found:
We saw different foot traffic trends by the loyalists and one-time shoppers between Q3 2017 and Q3 2018. To start, there were no conclusive trends for one-time shoppers. They are average shoppers, seeking wide inventory, convenience and promotions without any discernible patterns. Notably however, we did notice changing shopping patterns for the loyalist group following the Toys"R"Us closures.
As loyalists made up 28% of foot traffic to Toys"R"Us, and majority of revenue was driven by in-store sales, then we're talking about billions of dollars up for grabs. And here's how that group has shifted its shopping since the Toys"R"Us closures:
Where loyal Toys"R"Us fans are shopping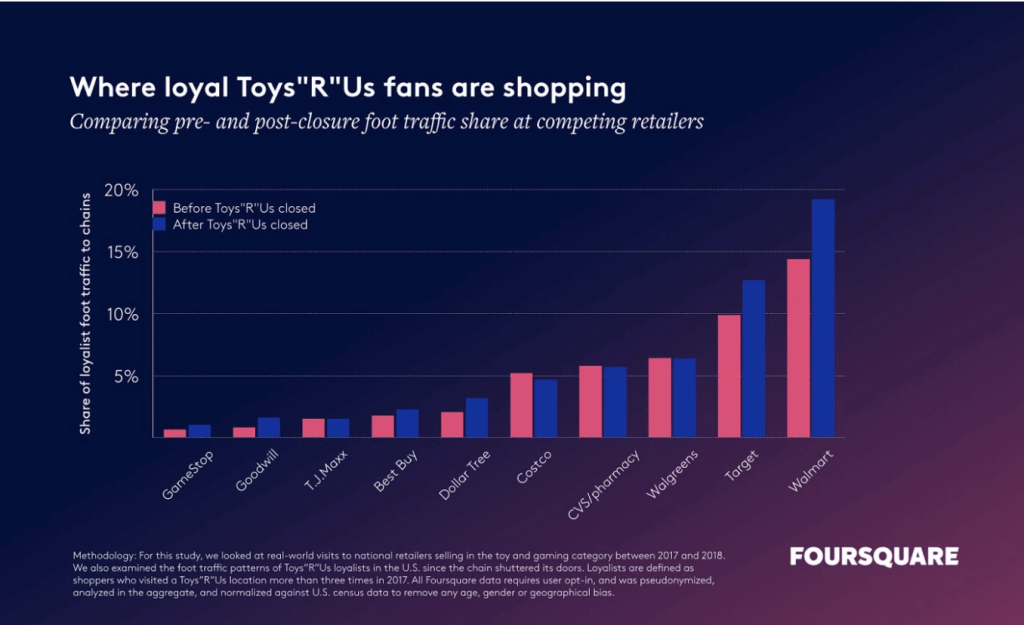 Not so surprisingly, Walmart and Target picked up the largest overall share of Toys"R"Us' loyalist foot traffic with 3.2% and 2.5% increases, respectively. (Don't let the single digit increase underwhelm you; this still signals a surge for the retail behemoths.) Dollar Tree and Walgreens also picked up some of the Toys"R"Us loyalist foot traffic. In an early analysis of this past Black Friday weekend, we saw these patterns sustained, and we anticipate more of the same as the holiday season progresses.
But when we look at meaningful impact, GameStop will be the underdog winner this holiday season. After Toys"R"Us's closures, a small but discernible group of loyalist shoppers rerouted their shopping traffic to another dedicated toy/gaming retailer — GameStop.
(Best Buy is also showing similar share shift, likely by capturing video game aficionados, but it's a small increase for a $17.2 billion market cap company.)
So, why the focus on GameStop?
In Q3 2018, GameStop experienced a 0.4% increase in foot traffic share from the former Toys"R"Us loyalists. This may sound like a drop in the bucket, but it's not for this specialty retailer. At GameStop, a $1.3 billion market cap company, foot traffic by Toys"R"Us loyalists to GameStop nearly doubled year-over-year.
GameStop recently reported that while video game and software sales were down, collectible sales are going up and reaffirmed as a priority vertical by the company's CEO. We can see why, and anticipate that this continues, as GameStop successfully picks up some of Toys"R"Us' loyal business.
Next steps? We say GameStop should add more collectible sales to its holiday promotion plans, and then leverage targeted advertising accordingly.
Closures aside, the real keys to success this holiday season comes in three forms:
Deploy targeted advertising: The biggest market opportunity right now is with Toys"R"Us' one-time shoppers, who have shown no brand loyalty or new preferred retailer following the closures. Foursquare can help businesses identify these shoppers and deploy targeted advertising with relevant, personalized messaging on thousands of websites and mobile apps. Learn more about our media capabilities here.
Measure impact: Understand which ads — across digital, TV, and more — are driving people into stores. Foursquare Attribution factors in day of the week, messaging, targeting strategies, and so much more to determine what truly drives incremental foot traffic, enabling optimizations in near-real time
Build brand equity: The stronger your brand, the more likely you are to be in a consumers' decision set in a highly competitive season. Coming soon, we'll share our new Retail Loyalty Indexes and unveil which brands have the most loyal customer base across multiple retail categories.
The bottom line: A chain's closures impacts who walks in your front door. Smart marketers know to better target and speak to the customers who are up for grabs, leading to, in this case, more holiday Hatchimals and Magna-Tiles off the shelves, wrapped and ready.