Ever hail an Uber using a place name rather than a street address? Have you used a Snapchat geofilter or geotagged a tweet on Twitter? Many of the world's largest tech companies rely on Foursquare data to add location into their apps and services. But until today, medium-sized companies didn't have a solution targeted towards them.
That changes now.
We're announcing a new solution, Places API for Start-Ups, which opens our industry-leading technology to small- and medium-sized companies with commercial use cases, at an affordable price point. Whether you're an innovator of a cool new service, a developer behind a sharp new app, or you're leading a rising start-up, you can now access our API and the benefits that come from it, alongside the more than 125,000 developers already in our community. This network of developers has refined and finessed our product, so it's truly best-in-class.
And demand for Foursquare's API solutions is higher than ever: with 35% more developer sign-ups year-to-date vs last year.
The new Places API for Start-Ups App Stats Dashboard
Situated between our Enterprise tier for large-scale partners and our free tiers for non-commercial developers, the new Start-Up tier gives companies the ability to:
Integrate our industry-leading global venue database, created thanks to more than 12 billion check-ins. Add photos, tips and reviews to provide users with a complete picture of a destination. Foursquare's Places API for Start-Ups offers more place attributes than any other available location API.
Layer in location search, details on venues, and location sharing, connecting your product to what's happening in the real-world.
Add unlimited descriptive place attributes, which means that not only can you enrich an app experience by adding in more than 105M places around the globe, each can be described with specific details, such as "live music" or "accepts credit cards."
Harness the power of our proprietary Snap-to-Place technology to accurately identify where your users are located in real time, create magical contextual experiences, and provide relevant recommendations to your users.
This solution also allows for:
The creation of multiple apps with access to an unlimited number of daily API calls.
An understanding of daily API usage via a new, easy-to-read App Stats Dashboard, so you can know exactly how much you're spending each month.
Quick responses to every support request thanks to our dedicated support team who can address your needs.
We know that for commercial start-ups and growing companies, industry-leading solutions are often either limiting or too expensive. Developers from mid-sized companies can now leverage over 900 categories and 80 attributes for contextual relevance and rich content starting at $599/month, depending on usage. Additionally, we're continuing to offer free access to our world-class API for non-commercial partners that make fewer than 100,000 daily API calls.
This new tier is already being road-tested by start-ups you may already know and love across food, fitness and shopping categories.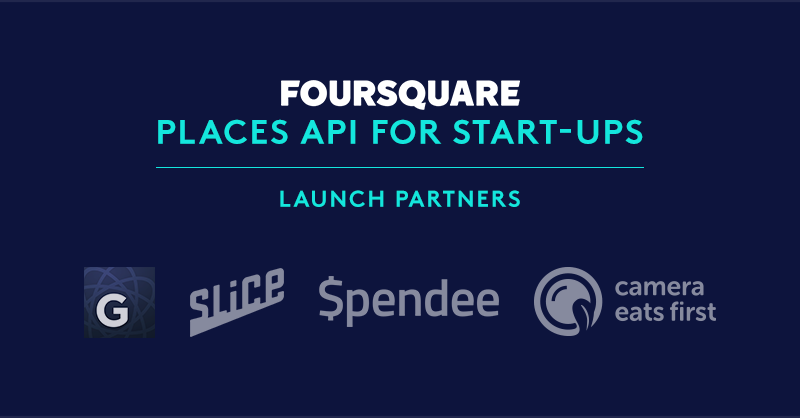 Gyroscope, the life tracking app that helps you keep a log of everything from weight loss to productivity, is using our Places API to help users keep a map of everywhere they go. "Many of our users rely on Gyroscope to track their travels all around the world, and the Foursquare database has been perfect for letting them capture the details of all the places they've been," said Anand Sharma, founder, Gyroscope. "The high quality of the metadata, place names and categories lets us develop a great in-app experience, and offer more analytics on top of that history, which we hadn't been able to do before."
For Camera Eats First, an app that helps you search for individual dishes, not just restaurant names, Foursquare tips provide users with rich details about the best dishes nearby.
We're also working with Slice, an app that supports 9,000+ independent pizzerias by allowing consumers to order online from their favorite local shops, which uses our ratings data to ensure their community finds the best slices every time. "Foursquare has spent years developing a one-of-a-kind rating system that is trusted by millions of users for its accuracy and reliability, which is why Foursquare is the obvious right partner," said Kenny Herman, EVP of strategy, Slice.
For Spendee, an app that helps consumers analyze their income and spending, we're providing access to our POI database so users can more easily identify their transactions. According to Jakub Sechter, co-founder & CSO, Spendee, "The Foursquare API lets our users assign places to their transactions so they have a better understanding of their expenses."
Interested in harnessing the power of location to enhance your mobile experience? Want to join our community of developers? We have solutions for companies of any size. Go to developers.foursquare.com and get in touch.