Use Foursquare Studio to Participate in the #30DayMapChallenge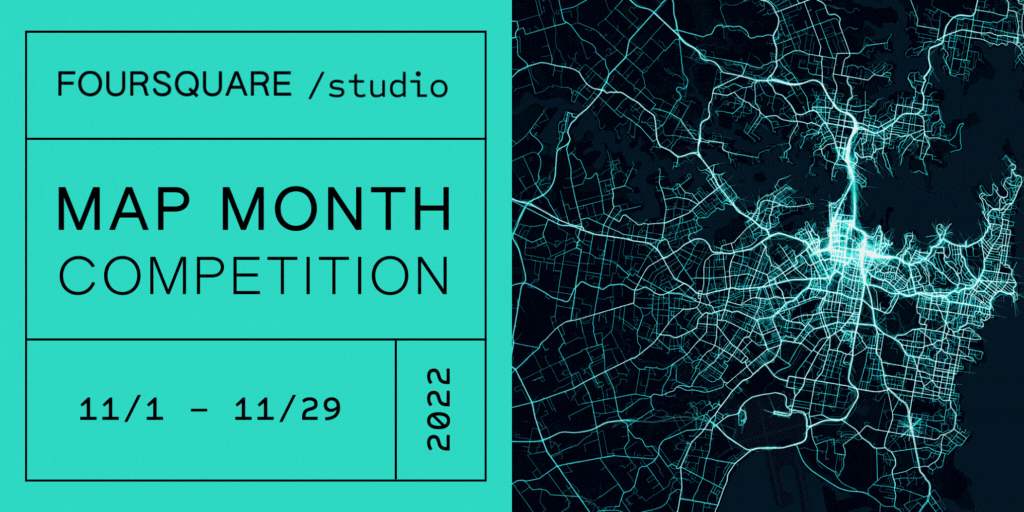 This competition is closed.
Calling all geospatial enthusiasts: analysts, developers, GIS professionals, and hobbyists. Are you using Foursquare Studio for the #30DayMapChallenge? Share your maps with us too for a chance to win one of three $500 prizes in our 2022 Map Month Competition.
What's the challenge?
We want to see your best map creations using Foursquare Studio (formerly Unfolded).
Submissions may cover, but are not limited to, the following categories:
Environment
Planning & Infrastructure
Movement
Cityscape & Streetscape
People
Places
The deadline to submit is November 29, 2022 at 11:59pm ET. All submissions after this date will not be considered, although we would still love to see them.
Who can participate?
We invite anyone participating in the #30DayMapChallenge that's using Foursquare Studio to create a submission. Must be 18 years of age or older to participate.
Review terms & conditions for full eligibility details.
How do I enter?
Note: All maps must be created and published in Foursquare Studio.
Create your map!
Click "Share" > "Publish to Public" to generate your URL.
Follow the instructions below to submit your map:
Option 1: Twitter
Share a tweet that includes:
Your public map URL (generated in the Foursquare Studio)
An exported image of your map
Add #30DayMapChallenge
Tag @FSQstudio
Option 2: Foursquare Studio Community Slack
Join our community slack channel and post a message in the #mapmonth channel that includes:
Your public map URL
An exported image of your map
Awards and Recognition:
Three winners will be chosen to receive a $500 gift card of their choice from a variety of vendors.
All competition winners will also earn a spotlight on the Foursquare Studio Community Page and be featured across Foursquare's social media.
Judging Criteria:
Our panel of judges will select winners based on the following criteria:
TECHNICAL SKILLS: Does the map demonstrate quality and accurate geospatial analysis?
CREATIVITY: Does the map showcase experimentation with different visualization tools and techniques?
STORYTELLING: Does the map tell a compelling data story?
Key Dates:
COMPETITION OPENS:
November 1, 2022 (10:00am ET)
SUBMISSION DEADLINE
November 29, 2022 (11:59pm ET)
WINNERS ANNOUNCED
December 8, 2022 (12:00pm ET)
Resources:
By entering the Foursquare competition, you agree to accept and be bound by these terms and conditions.