About Kontur:
Kontur is a geospatial data and real-time risk management solutions provider for humanitarian, private, and governmental organizations. Kontur utilizes a combination of data processing and innovative mapping technologies to provide visual, location-based insights to identify the impact resulting in response strategies, may it be in disaster management, insurance, or supply chain strategies.
Challenge:
Kontur wanted to shed light on the impact of climate change by sharing the geospatial, worldwide data they've collected on wildfires over the span of 20 years. Unfortunately, fire activity is on the rise in many regions around the globe while wildfire patterns are repetitive. Therefore the company wanted to make one annual cycle of wildfire publicly available to illustrate the wildfire trends. Kontur wanted to make the vast spatial and temporal data set available for everyone in an accessible visual form.
Solution:
Kontur used the Studio Map SDK and Hex Tile solution to visualize a massive spatial dataset within the Global Fires map. The vast wildfire dataset is sent to the Studio platform and the Hex Tiles system transforms this data to display updated information in real-time directly within the browser. What makes this solution even more unique is that Studio provides a timestamp filter to provide timeline playback and the opportunity for deeper analysis. In addition to an easy way to provide customers real-time data visualization, the Studio team provided Kontur the API for SDK customization to add a custom loading screen, chatbox, and custom branding to provide a seamless user experience.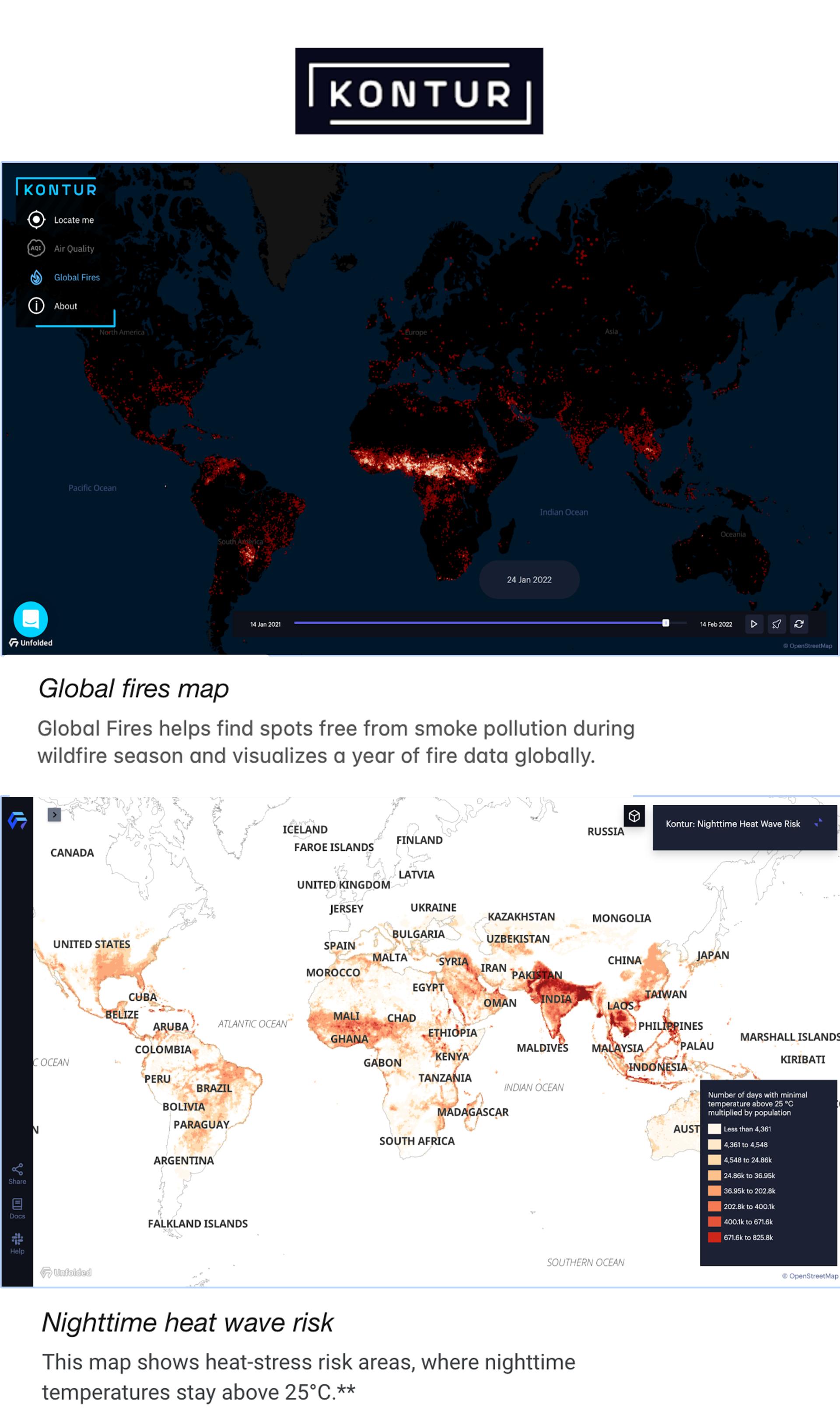 Wildfires are not the only outcome of climate change. Kontur used Foursquare Studio's Hex Tiles solution to enrich the climate model provided by Probable Futures with Kontur Population dataset to visualize populated areas where night-time temperatures fail to drop below 25°C (77°F). The heat can become deadly, especially for the elderly, children, and low-income communities. Visualizing this data helps determine the most vulnerable communities, manage cities' power demand at night or decide where to open the cooling centers or set up water distribution points.
Results:
Foursquare Studio's Hex Tiles makes the join between global scale population and temperature datasets extremely easy and efficient. It also allows users to visualize vast datasets in real-time in the browser. This empowers Kontur product users to analyze the impact of global climate trends over-time, both at a high level and with the opportunity to dig deeper into the data to make in-the-moment decisions about actions that will impact our environment on a macro, and micro-level.