In a previous post, we looked at two of the most common approaches to location marketing — geographic versus contextual — and discussed the advantages of bringing them together in a single flexible solution.
But one point needs to be stressed: No approach will be successful if the underlying technology isn't accurate, which is too often the case. That's largely due to environmental factors like venue location and urban density that can impact attribution accuracy. When that happens, it means user visits simply aren't assigned to the right location.
Imagine if you spent your hard-earned marketing budget to target visitors of a certain pet supply store — only to later learn that they were actually visiting the coffee shop next door, instead. Not only would you have spent time and money targeting the wrong users, you'd likely have annoyed those users, too, by sending them irrelevant content. And that can cause them to lose any affinity for your brand that they may have already had.
Providing that accuracy is part of the reason we built the Pilgrim SDK in the first place — but we weren't content to simply assume Pilgrim's accuracy was superior. We decided to subject it to rigorous real-world testing. Here's what we learned.
Putting Pilgrim to the Test
To ensure that Pilgrim delivers reliable attribution accuracy in complicated environments like malls and cities we conducted an experiment across a variety of locations over several months.
In the experiment we found that Pilgrim Snap-to-Place performed over five times better at placing a device at the correct venue in dense cities than polygons, a manual mapping methodology. Commonly used in geofencing, polygons often struggle to accurately attribute visits in multi-story buildings. And in compact spaces like malls, where multiple stores are nested close together, Snap-to-Place was over five times more accurate than polygons. To see a relative comparison of how Snap-to-Place compares to polygons, venue radii and more, check out the grid below.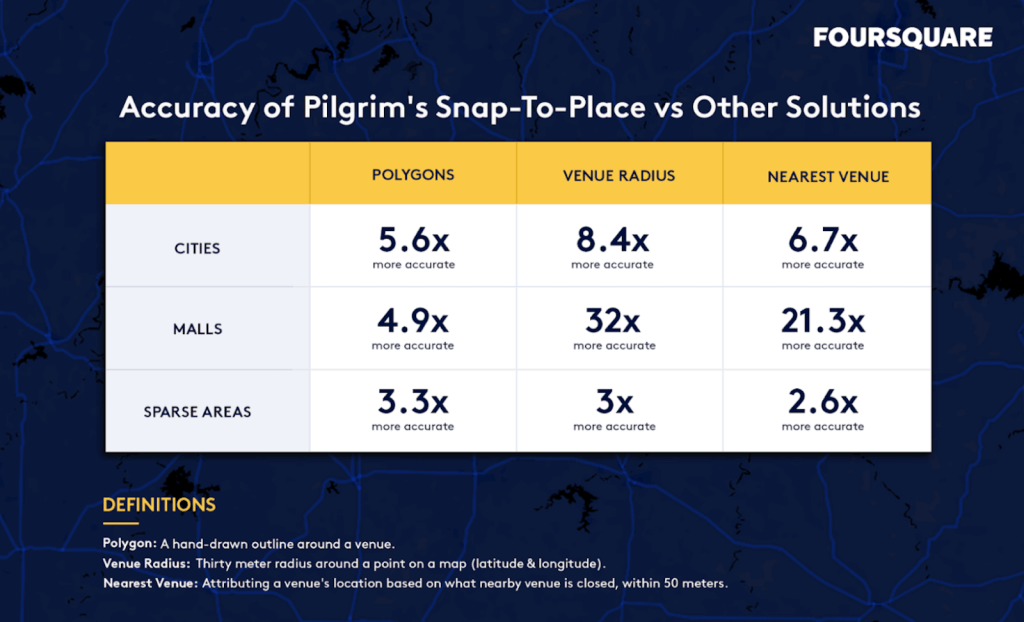 The Right Technology for Your Approach
Let's be clear: Geofencing still serves a great purpose. You just need to be comfortable with the tradeoffs and understand which tech is best for your business.
For instance, businesses that want to detect visits faster will likely leverage geofencing as their solution of choice. A casual dining chain, for example, may want to trigger notifications for specials or coupons based on user proximity. That kind of campaign doesn't demand a high level of personalization, which makes geofencing an effective solution.
For businesses that choose to take a primarily contextual approach — leveraging behavioral data to surface customized content based on customers' interests and habits — Snap-to-Place's accuracy is key. It enables marketers to gather deep insights over time, based on data they can rely on. And that's a key ingredient for successful, customized marketing campaigns.
It can lead to increased conversions and greater brand affinity, while minimizing the risk of serving irrelevant content to users. However, that requires marketers to play the long game and develop comprehensive profiles based on multiple data points.
Better Location Technology — Right Now
There's no one-size-fits-all approach to marketing for any business. But with Pilgrim, you can leverage the advantages of both geographic and contextual strategies to find the balance that's best for your business. Snap-to-Place automatically recognizes more than 105 million points of interest. Plus, it works exceptionally well in dense, urban environments and is accurate even in multi-story buildings — so businesses can reach and engage audiences with confidence. Meanwhile, geofencing provides instant, configurable coverage as well as event-based triggers, for faster notifications.
Pilgrim's data can also be integrated with marketing automation tools like Braze, Urban Airship, Localytics, mParticle and more. That makes building location-based segments easier than ever before. Pilgrim can deliver immediate value for virtually any industry. For restaurant chains, the classic "order ahead" feature can be improved by setting the boundary for the restaurant lies out from the actual location and providing an alert once a customer enters the boundary. Meanwhile, brick-and-mortar retailers can track foot traffic over time to develop a deeper understanding of users' preferences, lifestyles, affinities and paths to purchase. The options are truly limitless.
To learn more about what Pilgrim can do you for you, contact us today.
Methodology
To test Pilgrim's accuracy, we measured Pilgrim's venue attribution accuracy mapped by venue radii, polygons and nearest venue across cities, malls and sparsely populated areas over the course of 90 days. The locations we used were:
Malls: Westfield San Francisco Centre, in San Francisco CA; The Shops at Columbus Circle in New York, NY; and The Galleria in Houston, TX
Cities: Chicago, Los Angeles and New York
Large retailers: Walmart, Costco, Target, Home Depot, Whole Foods, Safeway and Kmart
With user input (e.g., check-ins and confirmations) as our source of truth, we analyzed how each strategy performed on the venues in question. We also created polygons for malls and city blocks to test how Pilgrim's venue search compared to other strategies in dense urban areas. Then, we created polygons for large stores to compare how venue search performed on locations that should be "easier" for other strategies.